Scientists Study the Function of OsPT4 in Arsenic Uptake in Rice
February 14, 2018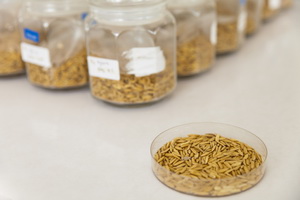 Arsenic (As) is toxic to organisms, and elevated As accumulation in rice (Oryza sativa) grain poses a significant health risk to humans. The predominant form of As in soil under aerobic conditions is As(V). Rice roots take up As(V) by phosphate (Pi) transporters, such as OsPT1 and OsPT8. Ying Ye from Huazhong Agricultural University in China investigated the contribution of OsPT4 on rice As(V) uptake and transport.
Ying's team determined that the mRNA amounts of OsPTs in rice seedlings, and expressions of OsPT1, OsPT4, and OsPT8 were upregulated under As(V) conditions. OsPT4-overexpressing plants were obtained to examine the As(V) transport activity in rice. The transgenic rice showed sensitivity to As(V) stress with aboveground parts showing delayed growth and the roots stunted. The team also used CRISPR-Cas9 and targeted the OsPT4 gene, developing knockout lines. The knockout lines showed the opposite phenotype compared to the overexpressing lines.
The study indicates that OsPT4 is involved in As(V) uptake and transport and could be a good candidate gene to generate low As-accumulating rice.
For more information, read the article in Frontiers in Plant Science.
Biotech Updates is a weekly newsletter of ISAAA, a not-for-profit organization. It is distributed for free to over 22,000 subscribers worldwide to inform them about the key developments in biosciences, especially in biotechnology. Your support will help us in our mission to feed the world with knowledge. You can help by donating as little as $10.