Nigeria is Gearing towards Commercializing GM Seeds
February 14, 2018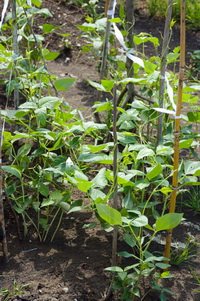 In Nigeria, local seed companies have a strategic role to play in the multiplication and distribution of seeds to farmers when GM seeds become available in the market. This was according to Dr. Rose Gidado, assistant director of the National Biotechnology Development Agency (NABDA).
The biosafety law of Nigeria was put in place in 2015, followed by the establishment of the National Biosafety Management Agency (NBMA), which has been in charge of implementing biosafety regulations. According to NBMA, the country is ripe for commercialization of GM products. This may imply that Nigeria will soon start the commercialization of staple crops that have been tested through confined field trials such as the Maruca-resistant cowpea currently being tested by farmers on the fields, and Bt cotton, which is on general release.
"When GM seeds are finally commercialized, our indigenous seed companies have a very key role to play in the commercialization and multiplication of seeds. Of course, they have to take over, it is not the foreign seed companies that will determine, even if the foreign seed companies are going to be part of it, they are going to work hand in hand with our local seed companies, build their capacities and all that," said Dr. Gidado, who is also the country coordinator of the Open Forum on Agricultural Biotechnology (OFAB) Nigeria chapter. She added that local seed companies were already being engaged and sensitized about their part in multiplication and distribution of the seeds.
Read the original article from Leadership Nigeria.
Biotech Updates is a weekly newsletter of ISAAA, a not-for-profit organization. It is distributed for free to over 22,000 subscribers worldwide to inform them about the key developments in biosciences, especially in biotechnology. Your support will help us in our mission to feed the world with knowledge. You can help by donating as little as $10.