CAAS Scientists Develop GE Cabbage Resistant to Diamondback Moth
September 13, 2017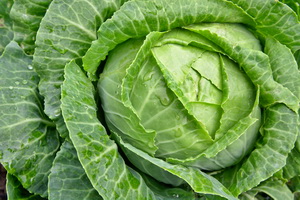 Chinese Academy of Agricultural Sciences researchers successfully incorporated a Bt gene into cabbage plants to improve resistance to destructive pest, diamondback moth (Plutella xylostella). The results of their study are published in Scientia Horticulturae.
The researchers used Agrobacterium tumefaciens-mediated transformation to develop transgenic cabbage plants with Bacillus thuringiensis cry1Ia8 gene. The resulting transgenic plants were able to control both susceptible and Cry1Ac-resistant diamondback moth larvae.Then they analyzed the expression and inheritance of the Bt gene in four single-copy lineages and their sexually derived progenies.
Results of the analyses showed that the transgene was successfully inserted in the genome of cabbage and the inheritance of the gene in the progenies followed the Mendelian segregation pattern. These results imply that the transgenic lines exhibiting stable inheritance can be used as donor in breeding programs for cabbage.
Read the research article for more information.
Biotech Updates is a weekly newsletter of ISAAA, a not-for-profit organization. It is distributed for free to over 22,000 subscribers worldwide to inform them about the key developments in biosciences, especially in biotechnology. Your support will help us in our mission to feed the world with knowledge. You can help by donating as little as $10.