Policy Reforms Key in Biotech/GM Crops Adoption in Africa
September 6, 2017
COMESA member states through its specialized agency ACTESA - Alliance for Commodity Trade in Eastern and Southern Africa have acknowledged the need for rigorous reforms on policies governing adoption of GM crops in Africa. This was during a two-day regional sensitization workshop on agri-biotech and biosafety held on August 30, 2017 in Kenya. The workshop brought together representatives from six COMESA member states actively involved in biotech research, the East African Community (EAC) and key private sector players.
Hon Christophe Bazivamo, the Deputy Secretary General of the East African Community in charge of Productive and Social Sectors emphasized the need to prioritize food security by incorporating all available tools along the value chain to achieve a stable economic environment in the region. He also indicated that EAC has not taken an official position on GM crops but discussions are underway.
According to Hon. Adam Malima, Vice Chair of East Africa Biotechnology and Biosafety Alliance (EABBA), regional agricultural policies are heavily influenced by attitudes and stringent rules exported from the EU that has close trade ties with Africa for their benefit. Hon. Malima informed the business community representatives that EU leads in application of GM technology in medicine and not agriculture because food security is not a problem in that part of the world.
Dr. Getachew Belay, COMESA's Senior Biotechnology and Biosafety Advisor, expressed that the prevailing arguments surrounding the application of GM technology in Africa will never go away until all stakeholders come together and establish a common ground for regional benefits. ISAAA AfriCenter Director, Dr. Margaret Karembu, reiterated the need for consensus within the agri-biotech community and urged experts entrusted with providing technical information to communicate effectively and harmonize their messages to reduce public confusion.
The workshop, which was organized by ISAAA AfriCenter under the OFAB program, in partnership with COMESA/ACTESA, also provided participants with an opportunity to visit the Water Efficient Maize for Africa (WEMA) insect resistant/drought tolerant (Bt-DT) maize field trials at the Kenya Agricultural and Livestock Research Organization (KALRO), as well as the International Institute of Tropical Agriculture's AflaSafe partnership plant addressing the aflatoxin menace.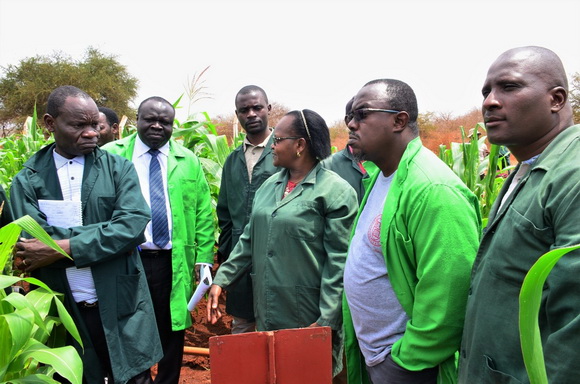 For more information on the event contact: Drs. Margaret Karembu mkarembu@isaaa.org and Getachew Belay at GBelay@comesa.int
The Crop Biotech Update is a weekly newsletter of ISAAA, a not-for-profit organization. The CBU is distributed for free to over 23,000 subscribers worldwide to inform them about the key developments in biosciences, especially in agricultural biotechnology. Your support will help us in our mission to feed the world with knowledge. You can help by donating as little as $10.
See more articles:

News from Around the World

Research Highlights

Plant Breeding Innovations

Beyond Crop Biotech

From the BICs

Resources


Read the latest:


Subscribe to CBU: