COMESA member states through its specialized agency ACTESA - Alliance for Commodity Trade in Eastern and Southern Africa have acknowledged the need for rigorous reforms on policies governing adoption of GM crops in Africa. This was during a two-day regional sensitization workshop on agri-biotech and biosafety held on August 30, 2017 in Kenya. The workshop brought together representatives from six COMESA member states actively involved in biotech research, the East African Community (EAC) and key private sector players.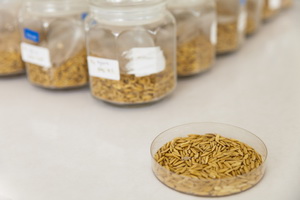 MicroRNAs (miRNAs) are small non-coding RNAs with roles in plant development and stress responses. Loss-of-function analysis of miRNA genes has been challenging due to the lack of suitable knockout tools. A team of scientists from various universities, led by Jian-Ping Zhou from the University of Electronic Science and Technology of China, aim to study miRNA genes, specifically OsMIR528, in rice using CRISPR-Cas9.

A biweekly update on genome editing research, regulations, and impact
produced by ISAAA Inc.

A monthly update on gene drive research and development provided by ISAAA in collaboration with the Outreach Network for Gene Drive Research
GM APPROVAL UPDATES
Brazil approved the wheat event HB4 for commercial cultivation.
The Philippines approved the eggplant event EE-1 for cultivation
The USA approved the canola event MON94100 for food and feed.
Nigeria approved the wheat event HB4 for food and feed.
The USA approved the corn event MON87429 for food and feed.

Ghana approved the cowpea event AAT709A for food, feed, and cultivation.
Biotech Updates is a weekly newsletter of ISAAA, a not-for-profit organization. It is distributed for free to over 22,000 subscribers worldwide to inform them about the key developments in biosciences, especially in biotechnology. Your support will help us in our mission to feed the world with knowledge. You can help by donating as little as $10.