India's Environment Ministry Stresses Safety of GM Mustard
August 16, 2017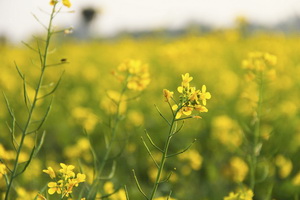 The environment ministry of India has told the Supreme Court that GM mustard has no herbicide tolerant trait and genetically modified crops have a proven history of safe use for more than 20 years.
GM mustard was developed by renowned geneticist Deepak Pental (former vice-chancellor of Delhi University) and his team, with support from the National Dairy Development Board and the Department of Biotechnology, Dhara Mustard Hybrid. It is expected to help farmers increase mustard productivity which has been stagnant for several years. No herbicide tolerance trait was introduced in the variety. However, biotech critics are repeatedly making misleading claims that GM mustard is a herbicide tolerant crop. Thus, the environment ministry released an affidavit stressing that GM mustard is not herbicide tolerant, and that the risk assessment studies showed that the GE crop does not pose any harmful effect to humans or animals.
"Rapeseed /canola (sister crop of mustard) hybrids based on same technology have been a major success in Canada, USA, and Australia … the technology has a proven history of safe use for more than 20 years. There is no report of any proven ill effects whatsoever in the use of this technology," said the environment ministry in its affidavit.
The Genetic Engineering Appraisal Committee (GEAC), the regulator of GM products in India, has recommended the approval of commercial planting of GM mustard on May 11, 2017.
The Crop Biotech Update is a weekly newsletter of ISAAA, a not-for-profit organization. The CBU is distributed for free to over 23,000 subscribers worldwide to inform them about the key developments in biosciences, especially in agricultural biotechnology. Your support will help us in our mission to feed the world with knowledge. You can help by donating as little as $10.
See more articles:

News from Around the World

Research Highlights

Plant Breeding Innovations

Beyond Crop Biotech

Announcements

Resources


Read the latest:


Subscribe to CBU: