India's B.R. Barwale Passes Away
July 26, 2017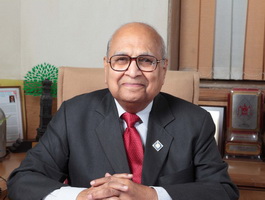 Dr. B.R. Barwale, founder of Maharashtra Hybrid Seeds Company Pvt Ltd (Mahyco) has passed away on July 24, 2017 at 86. Dr. Barwale, who devoted his life for the upliftment of Indian farmers, is widely regarded as the father of the Indian seed industry, having founded Mahyco in 1964. He was awarded the prestigious World Food Prize in 1998, and in 2001, he received the Padma Bhushan from the Indian government. Dr. Barwale played an important role in bringing Bt cotton to India's farmers in 2002, through a venture with Monsanto Investments and formed Mahyco Monsanto Biotech.
Dr. Clive James, founder and emeritus chair of ISAAA wrote a poignant tribute addressed to the family of Dr. Barwale:
He cared, more than others thought wise
He dreamed, more than others thought real
He risked, more than others thought safe
And he expected, and normally achieved,
What others thought impossible
Dr. C.D. Mayee, president of the South Asia Biotechnology Centre and former chairman of the Agricultural Scientists Recruitment Board, Government of India wrote a tribute available at the SABC Facebook page.
Biotech Updates is a weekly newsletter of ISAAA, a not-for-profit organization. It is distributed for free to over 22,000 subscribers worldwide to inform them about the key developments in biosciences, especially in biotechnology. Your support will help us in our mission to feed the world with knowledge. You can help by donating as little as $10.
See more articles:

News from Around the World

Research Highlights

Beyond Crop Biotech

Plant


Read the latest:


Subscribe to BU: