African Biosafety Regulators Embrace Biosafety Communication at ABBC 2017
July 26, 2017
Biosafety regulators from various African countries have embraced and appreciated the importance of biosafety communication in creating public trust with the regulatory process of GMOs. This was during the Agri-biotechnology and Biosafety Communication (ABBC) 2017 Africa Symposium held in Entebbe, Uganda July 18-20, 2017. It attracted over 120 participants from 22 countries in Africa and around the world under the theme of strengthening communication for improved biosafety management. The participants included leaders of biosafety agencies in Africa and their communication staff, government officials, scientists and communicators. The symposium provided an opportunity to discover innovative techniques for communicating biosafety concepts, processes and decisions with a view to strengthening biosafety management in Africa. It was attended by CEOs of select African biosafety agencies, their biosafety communicators/spokespersons, biosafety experts, and renowned professional communicators.
Dr. Judy Chambers, Director Program for Biosafety Systems, gave a critique of the past present and future of biosafety communications. She emphasized the need to apply strategic solutions to peripheral and non-scientific issues in biosafety communications, the importance of taking a values approach while making the arguments, building efficiency by sharing best practices and applying lessons learned to new situations,such as the New Breeding Technologies. She urged biosafety communicators to develop a comprehensive gender approach to outreach and policy advocacy by focusing on safety, health and nutrition, economic and social benefits for women.
Dr. Mahaletchumy Arujanan, Executive Director of Malaysian Biotechnology Information Centre, served as keynote speaker and presented about how to balance biotechnology and biosafety communications. She emphasized that as well as communicating biosafety, science communicators and scientists must talk about the technology and the benefits of the products. "We want our farmers to understand well and be informed about modern biotechnology" she said.
Participants also learned how to communicate through storytelling how to enhance visibility of biosafety agencies through media engagement, grassroots engagement, and use of social media.
The Executive Manager of Biosafety South Africa, Dr.Hennie Groenewald blamed the slow pace of adoption across the continent to lack of knowledge on agricultural biotechnology and biosafety, brought about by failure in biosafety communications. Dr. Jeremy Ouedraogo, Head of the Regional Office of ABNE informed participants that the African Union Heads of States and Governments had recognized modern biotechnology as a tool for improving crop production. He also officiated the launch of African Network of Biosafety Communicators whose objective is to promote biosafety communication in the continent in partnership with Michigan State University (MSU) ISAAA AfriCenter and other partners.
Uganda's Minister of State for Agriculture, Hon. Christopher Kibanzanga affirmed his support for biotechnology and biosafety in his closing statements. "I support biotechnology because 730 million people in the world are starving and I want to work with God to improve humanity through science and technology."
The symposium was organized by ISAAA AfriCenter in partnership with National Agricultural Research Organization, Uganda National Council for Science and Technology, Uganda Biosciences Information Center, the NEPAD Agency's African Biosafety Network of Expertise, COMESA-ACTESA, MSU, Program for Biosafety Systems, and Seed Stories.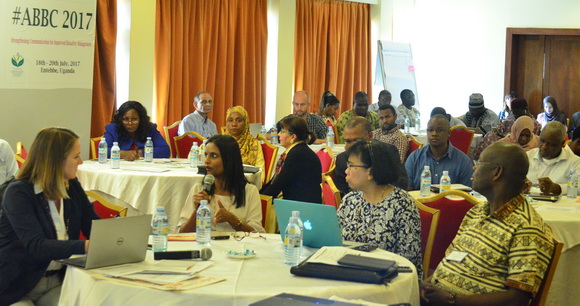 For more information on the outcome of the symposium contact Drs. Margaret Karembu, mkarembu@isaaa.org and Jeremy Ouedraogo at jt.ouedraogo@nepadbiosafety.net.
Biotech Updates is a weekly newsletter of ISAAA, a not-for-profit organization. It is distributed for free to over 22,000 subscribers worldwide to inform them about the key developments in biosciences, especially in biotechnology. Your support will help us in our mission to feed the world with knowledge. You can help by donating as little as $10.
See more articles:

News from Around the World

Research Highlights

Beyond Crop Biotech

Plant


Read the latest:


Subscribe to BU: