South Asia Biotechnology Centre Invites Public Comments to Support GE Mustard
September 14, 2016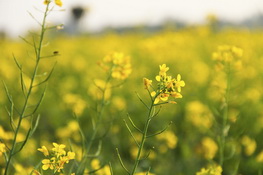 The South Asia Biotechnology Centre (SABC) is inviting the public to submit comments in favor of the barnase-barstar technology and genetically engineered (GE) mustard hybrid DMH-11 to the Indian Ministry of Environment, Forest and Climate Change (MOEF). The barnase-barstar technology and GE mustard hybrid DMH-11, rigorously assessed for biosafety over the last decade by regulatory agencies in India, is as safe as conventional mustard, and does not raise any public health or safety concerns for human beings or animal or environment.
The technical sub-committee of India's Genetic Engineering Appraisal Committee (GEAC) thoroughly evaluated the safety of GE mustard and released the Assessment of Food and Environmental Safety (AFES) report published on the MOEF&CC website for public comments from September 5 to October 5, 2016. Public comments are of great value to the 6 million mustard farmers in India, who experience low yields. The farmers need access to GE mustard and allow Brassica breeding research groups to use barnase-barstar technology to develop superior mustard hybrids.
To send comments, go to the SABC Campaign "Support High-Yielding GE Mustard Technology". For more information, join the campaign on GE Mustard Technology.
The Crop Biotech Update is a weekly newsletter of ISAAA, a not-for-profit organization. The CBU is distributed for free to over 23,000 subscribers worldwide to inform them about the key developments in biosciences, especially in agricultural biotechnology. Your support will help us in our mission to feed the world with knowledge. You can help by donating as little as $10.
See more articles:

News from Around the World

Research Highlights

Plant Breeding Innovations

Beyond Crop Biotech

Resources


Read the latest:


Subscribe to CBU: