Ghanaian Scientists Urge Gov't to Invest in Agricultural Research
June 22, 2016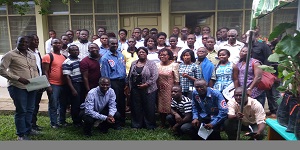 Ghanaian scientists have urged their government to invest more in agricultural research. Speaking at a recent workshop on media outreach and the launch of ISAAA's Global Status of Commercialized Biotech Crops (2015), Professor Kenneth Danso, Director of the Biotechnology and Nuclear Research Institute (BNRI), called on the government to invest in agricultural research to improve the sector. "The government should take agricultural issues more seriously by allocating more funds to research in order to limit overdependence on donor support," said Dr. Danso.
Dr. Lawrence Misa Aboagye, Director of the Plant Genetic Resources Centre (CSIR/PGRRI) in Bunso, Eastern Ghana, acknowledged the importance of continuity of GM crops research in the country. "GM Crops are developed to obtain new desired traits such as early maturing crops to match reduced rainfall, heat and drought tolerant varieties as well as high yielding varieties."
The Global Status report was presented by Professor Walter Sandow Alhassan, an Agricultural Specialist and former Director General of the Council for Scientific and Industrial Research (CSIR). He underlined farmer benefits that ensued from GM crops in the 20 years of commercialization. He also shared with participants copies of the summary report in Akan language, one of the most commonly spoken languages in Ghana, by 53% of the population.
The event held at the Plant Genetic Resources Centre (CSIR/PGRRI) of Bunso in Eastern Ghana on May 26, 2016 was organized by the Open Forum on Agricultural Biotechnology-Ghana Chapter and CSIR.
For more information on the event, contact Dr. Margaret Ottah Atikpo, chair of the OFAB Programming Committee in Ghana at magatik@yahoo.co.uk.
Biotech Updates is a weekly newsletter of ISAAA, a not-for-profit organization. It is distributed for free to over 22,000 subscribers worldwide to inform them about the key developments in biosciences, especially in biotechnology. Your support will help us in our mission to feed the world with knowledge. You can help by donating as little as $10.