Tanzania is Ready for GM Crops, Affirms Permanent Secretary of Ministry of Agri
June 22, 2016
The Permanent Secretary of Tanzania's Ministry of Agriculture and Food Security, Honorable Florens Turuka has vouched for the country's readiness to transact business on GM crops. Speaking at the launch of the ISAAA Global Report on Commercialized Biotech/GM Crops (2015), Honorable Turuka said the government intends to revolutionize agriculture by introducing biotech crops to improve the quality of yields.
"We want to make sure that the quality of the yields that we are harvesting is improved. We believe this report we have launched will help us show the public on how other countries are benefiting from agri-biotechnology." Prof. Gerald Monela, Vice Chancellor, Sokoine University of Agriculture, the host of the event, echoed Hon. Turuka' sentiments, adding that the country has the required capacity for research on GM crops.
"Our experts here at the university will follow internationally accepted guidelines to conduct the research on GM crops." Prof. Monela urged the public not to worry and asked leaders "who because of misinformation, might have said inaccurate things, that have instilled fear in the public to reassure them of the safety standards in place."
The meeting was organized by the Open Forum on Agricultural Biotechnology in Tanzania in collaboration with the Tanzania Commission for Science and Technology (COSTECH) at the Sokoine University of Agriculture (SUA) in Morogoro, Eastern Tanzania, on May 30, 2016. It was attended by 90 participants, including farmers, scientists, representatives from academia and media.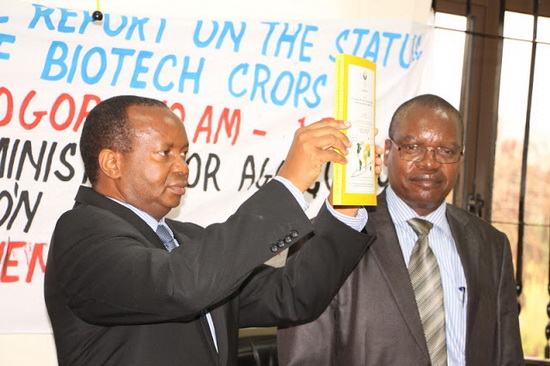 For more information on the event, contact Mr. Philbert Nyinondi, coordinator of the OFAB Programming Committee in Tanzania at nphilbert@costech.or.tz.
Biotech Updates is a weekly newsletter of ISAAA, a not-for-profit organization. It is distributed for free to over 22,000 subscribers worldwide to inform them about the key developments in biosciences, especially in biotechnology. Your support will help us in our mission to feed the world with knowledge. You can help by donating as little as $10.