ISAAA Launched 2015 Biotech Crops Report in Myanmar
June 22, 2016
ISAAA has released the 20th Anniversary of the Global Commercialization of Biotech Crops (1996-2015) and Biotech Crop Highlights in 2015 in seminars in Nay Pyi Taw and Yangon, Myanmar on June 17 and June 18, 2016, respectively. The seminars were organized by the Agricultural University Alumni Association (AUAA) in collaboration with Yezin Agricultural University (YAU) and ISAAA.
Deputy Minister for Agriculture, Livestock and Irrigation, H.E. Dr Tun Winn inaugurated the seminar at Nay Pyi Taw attended by 50 government officials, scientists, researchers and students. Twenty-five farmers, media, government officials and general public attended the seminar at Yangon, inaugurated by Dr. Tin Htut Oo, Executive Director of the Agribusiness and Rural Development Consultants at AUAA facility at Yangon.
H.E. Deputy Minister Dr. Tin Winn, strongly endorsed the use of new technologies in agriculture to improve farm productivity and increase farmers' income, against the growing threat of climate change, which is harming food production and making it difficult for farmers to raise crops and livestock. "Biotechnology can contribute in the alleviation of problems related to climate change, including biotic and abiotic stresses such as drought and flood. We need to take proactive and corrective steps using biotechnological approaches to solve some of current problems facing our country," said Minister Tun Winn. The deputy minister lauded the success of Green Revolutio- led release of IR-8 varieties in rice, hybrid revolution in maize and Bt technology revolution in cotton. "The success of these technology-led revolutions are the classic examples of success of scientific endeavor to overcome natural vagaries induced by climate change and ensure livelihood to our people. "Bt cotton is the classical example of a technology-led success in the most recent years in Myanmar," stated Dr. Tin Winn.
Dr. Khin Thida Myint, head of Department of horticulture and agriculture biotechnology of the Yezin Agricultural University, Nay Pyi Taw shared the status of biotechnology in Myanmar. Dr. Mahalectumy Arujanan of Malaysian Biotechnology Information Centre (MABIC) briefed the participants about the global status of the commercialization of biotech crops (1996-2015) and biotech crop highlights in 2015. Mr. Bhagirath Choudhary of the South Asia Biotechnology Centre (SABC), New Delhi, India, presented insights and analysis of genetically modified crops in Asia.
Other important participants in the seminar were Prof. Dr. Myo Kywe, the rector of Yezin Agricultural University, Dr. Khin Moe Khaing of Department of Agriculture, Dr. Pa Pa Aung and Dr. Thawda of Plant Biotechnology Centre and heads of different departments of Yezin Agricultural University, Dr. Tin Maung Shwe and Mr. Naing Lin Oo of the Agribusiness and Rural Development Consultants and senior officials of Agricultural University Alumni Association (AUAA), Nay Pyi Tau and Yangon.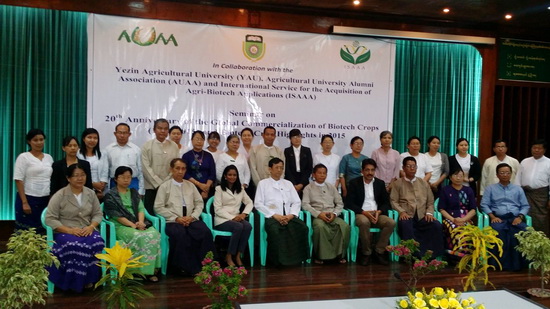 For information about biotech crops in Myanmar, visit the ISAAA website, and for more information on the two events, contact knowledge.center@isaaa.org.
Biotech Updates is a weekly newsletter of ISAAA, a not-for-profit organization. It is distributed for free to over 22,000 subscribers worldwide to inform them about the key developments in biosciences, especially in biotechnology. Your support will help us in our mission to feed the world with knowledge. You can help by donating as little as $10.