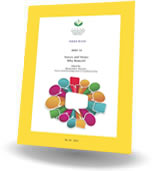 Voices and Views: Why Biotech?
Edited by
Mariechel J. Navarro
Director, Global Knowledge Center on Crop Biotechnology

Published by:

The International Service for the Acquisition of Agri-biotech Applications (ISAAA).

Copyright:

ISAAA 2015. All rights reserved. Whereas ISAAA encourages the global sharing
of information in Brief 50, no part of this publication may be reproduced in any
form or by any means, electronically, mechanically, by photocopying, recording
or otherwise without the permission of the copyright owners. Reproduction of
this publication, or parts thereof, for educational and non-commercial purposes
is encouraged with due acknowledgment, subsequent to permission being
granted by ISAAA.

Citation:

Navarro, M.J. (Ed.) 2015. Voices and Views: Why Biotech? ISAAA Brief No. 50.
ISAAA: Ithaca, NY.

ISBN:

978-1-892456-60-5

Electronic copy:

E-copy available at https://www.isaaa.org/resources/publications/briefs/50/ or email info@isaaa.org for additional
information about this Brief.