BiotechToons: Editorial Cartoons on Biotech Benefits and Potentials
December 2, 2011
The benefits and potentials of biotech crops were depicted in artistic, 2-dimensional editorial cartoons in "BiotechTOONS: A Contest for Cartoonists on Biotechnology" held as part of the 7th National Biotechnology Week in November 2011 in the Philippines. The contest was organized by the International Service for the Acquisition of Agri-biotech Applications (ISAAA), the Southeast Asian Regional Center for Graduate Study and Research in Agriculture – Biotechnology Information Center (SEARCA BIC), in collaboration with the Philippine International Cartoons, Comics, and Animation, Inc. (PICCA). BiotechTOONS captured the perspectives of Filipino cartoonists toward the benefits and promising value of biotech crops.
All entries ranged from comic to surreal, but all conveyed the message that biotech crops have made notable contributions to agriculture, and still hold potentials for the future. BiotechTOONS entries covered the topics of sustainable agriculture, safer food crops, fighting food insecurity and the effects of climate change, increasing income of farmers, and providing a better future for the next generations all through the use of biotech crops.
Biotech corn, which is the current approved biotech crop for planting in the Philippines, is a recurring subject in BiotechTOONS. Promising biotech crops such as Bt eggplant, Golden Rice, Bt cotton and delayed ripening virus resistant papaya, also made appearances in clever forms of characters. Some cartoonists also underscored the power of modern biotechnology in developing climate change resilient biotech crops through humorous artworks of drought and flood tolerant biotech crops.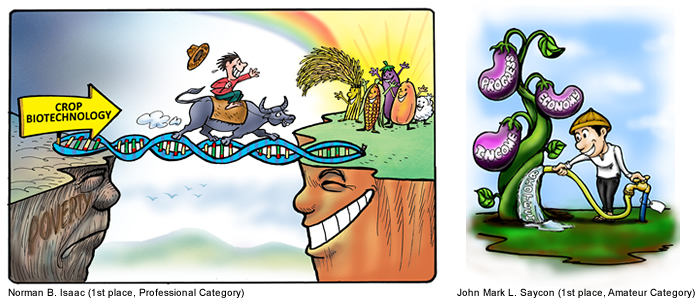 The artworks were narrowed down to the top 13 in each of the two categories (professional and amateur). These artworks were exhibited during the 7th National Biotechnology Week (NBW) Celebration at the Department of Environment and Natural Resources in Quezon City. The top three winners in each category, together with the finalists were awarded with plaques and cash during the closing ceremonies of NBW.

For more information about BiotechTOONS, visit http://www.isaaa.org or http://www.bic.searca.org.
Biotech Updates is a weekly newsletter of ISAAA, a not-for-profit organization. It is distributed for free to over 22,000 subscribers worldwide to inform them about the key developments in biosciences, especially in biotechnology. Your support will help us in our mission to feed the world with knowledge. You can help by donating as little as $10.