CBU's Knowledge Campaign Grand Prize Winners
February 11, 2011
The International Service for the Acquisition of Agri-biotech Applications (ISAAA) launched the Knowledge Campaign "A million healing hands to help a billion hungry", during the World Food Day in 2010, dedicated to Nobel Peace Laureate and ISAAA founding patron Dr. Norman Borlaug. Thirty CBU subscribers won a bronze duplicate of the Dr. Norman E. Borlaug Congressional Gold Medal, many of which are from the developing countries. The grand prizes of an Ipod Touch and netbook were given to Mangesh Dudhe, a scientist at the Directorate of Oilseeds Research in India, and Shirin Sultana, assistant professor at the Bangladesh Open University, respectively.
Mangesh Dudhe extended his appreciation through an e-mail: "I am extremely happy to get felicitated as a winner from the Knowledge Campaign. I and my friends find the weekly summary of world developments in agri-biotech, produced by the Global Knowledge Center on Crop Biotechnology of ISAAA extremely useful because it updates us with the current advances in the field of agri-biotechnology. I am thankful to my students and other colleagues in my various e-groups who responded to the CBU URL link I sent them."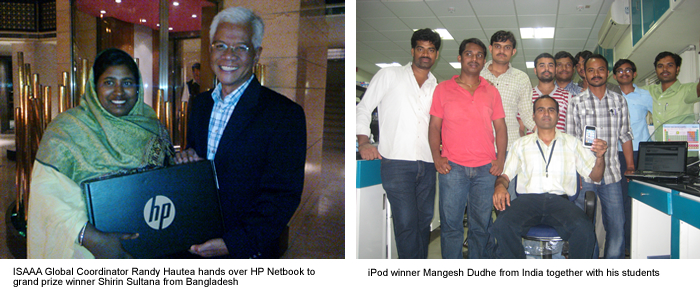 These awards were given to CBU subscribers for their significant contribution of sharing knowledge about agricultural biotechnology to alleviate poverty and hunger by sending e-mail addresses of their friends and colleagues. Through this campaign and the initiatives taken by the Biotechnology Information Centers (BICs), the Crop Biotech Update now reaches over a million subscribers.
Click here to continue sharing knowledge on crop biotechnology.
Biotech Updates is a weekly newsletter of ISAAA, a not-for-profit organization. It is distributed for free to over 22,000 subscribers worldwide to inform them about the key developments in biosciences, especially in biotechnology. Your support will help us in our mission to feed the world with knowledge. You can help by donating as little as $10.