Gene from Bitter Melon Protects Rice from Sheath Blight Disease
July 3, 2019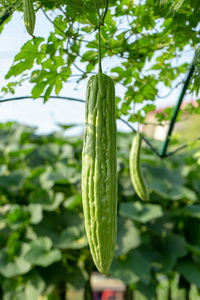 Sheath blight (SB) caused by Rhizoctonia solani fungus is one of the problems in rice production, but scientists have not found a source of resistance within the rice germplasm. Thus, researchers from Southwest University in China searched for other sources of resistance and tested a gene from bitter melon. The findings are published in Transgenic Research.
The research team developed transgenic lines harboring the chitinase gene (McCHIT1) of bitter melon with good SB resistance. Then they inoculated the transgenic and wild-type rice plants with hyphae of highly pathogenic SB strain. Results showed that there was higher SB disease incidence in wild-type plants (92%) than in transgenic lines (37-44%). From 1 to 5 days after inoculation with fungus hyphae, the chitinase activity in transgenic plants with high SB resistance was 2 to 5.5 and 1.8 to 2.7x that of wild-type and disease-susceptible transgenic plants, respectively. There was also a strong correlation between SB resistance and chitinase activity in transgenic rice plants.
Based on the results, the researchers concluded that McCHIT1 from bitter melon can be used to protect rice plants from SB infection.
Read the research article for more details.
Biotech Updates is a weekly newsletter of ISAAA, a not-for-profit organization. It is distributed for free to over 22,000 subscribers worldwide to inform them about the key developments in biosciences, especially in biotechnology. Your support will help us in our mission to feed the world with knowledge. You can help by donating as little as $10.
See more articles:

News from Around the World

Research Highlights

Beyond Crop Biotech

From the BICs

Resources

Plant


Read the latest:


Subscribe to BU: