SEARCA BIC Policy Brief Highlights Global Scientific Consensus on the Safety of GMO Technology
February 20, 2019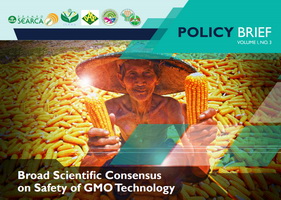 Despite the national policy on safe and responsible use of modern biotechnology, several local government units in the Philippines have passed resolutions and ordinances banning genetically modified (GM) crops in their respective areas. Across the globe, particularly in Europe, there are still many skeptics who refuse to recognize the potential benefits of GMO technology to raise farmers' income and yields, improve adaptation to climate change, and increase the crop's nutrient content.

Dr. Emil Q. Javier, a member of the National Academy of Science and Technology (NAST) and Chair of the Coalition for Agricultural Modernization in the Philippines, Inc. (CAMP), puts the spotlight on the scientific consensus in favor of GM technology based on published statements of the world's leading academies of science and responsible agencies. This is published as the third policy brief produced by SEARCA Biotechnology Information Center (SEARCA BIC).
These statements essentially validate the potential of GMO technology to increase and improve the efficiency of production of main food staples, reduce the environmental impact of agriculture, and provide access to food for small-scale farmers. The global scientific community concurred that GMO technology are no more risky than conventional plant breeding technologies. They also attested that these technologies are safe and that no effects on human health have been shown as a result of consumption of GM foods.

The 2018 Policy Brief series is produced and disseminated in partnership with the International Service for the Acquisition of Agri-biotech Applications (ISAAA), Coalition for Agriculture Modernization in the Philippines (CAMP), Department of Agriculture-Biotechnology Program Office (DA-BPO), Program for Biosafety Systems (PBS), and DA-Bureau of Agricultural Research (DA-BAR). For more details, read the full policy brief.
Biotech Updates is a weekly newsletter of ISAAA, a not-for-profit organization. It is distributed for free to over 22,000 subscribers worldwide to inform them about the key developments in biosciences, especially in biotechnology. Your support will help us in our mission to feed the world with knowledge. You can help by donating as little as $10.