ERS Publishes Report on Development, Adoption, and Management of Drought Tolerant Corn in the United States
February 20, 2019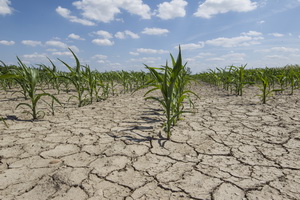 A new report published by the U.S. Department of Agriculture Economic Research Service (USDA ERS) and authored by Jonathan McFadden, David Smith, Seth Wechsler, and Steven Wallander discusses the adoption and use of drought tolerant (DT) corn in the United States.
Droughts have been among the significant causes of yield reductions and losses for centuries. Conventionally bred drought tolerant corn was commercially introduced in the United States in 2011, while genetically engineered (GE) corn in 2013. Majority of DT corn planted in 2016 had one or more GE traits such as herbicide tolerance and/or insect resistance.
The report concludes that over one-fifth of U.S. corn acreage was planted with DT corn in 2016. DT corn accounted for only 2 percent of U.S. planted corn acreage in 2012, but this grew to 22 percent in 2016. The researchers also found that the pace of adoption is similar to the adoption of herbicide-tolerant corn in the early 2000s. At least 80 percent of DT corn acres were planted in 2016 with seed conventionally bred for drought tolerance, while 20 percent was planted with GE seeds. At the national level, 3 percent of all U.S. corn acres in 2016 were planted with seed that had been genetically engineered for drought tolerance.
For more details, download and read the report from the ERS website.
Biotech Updates is a weekly newsletter of ISAAA, a not-for-profit organization. It is distributed for free to over 22,000 subscribers worldwide to inform them about the key developments in biosciences, especially in biotechnology. Your support will help us in our mission to feed the world with knowledge. You can help by donating as little as $10.