Farmers and University Students Call for Urgent Action on Biotech Legislation in Uganda
November 7, 2018
University students and educators from four universities have called for an expedited legislation on biotech crops under research and development in Uganda. This was during an inter-university dialogue on agricultural biotechnology, which was held at the School of Food Technology, Nutrition and Bioengineering Makerere University, Kampala on November 1, 2018. Students attending the event voiced the need for the National Biotechnology and Biosafety Bill to be passed by the parliament to enable Ugandan farmers access to improved biotech crops.
"It is imperative that we do not just stop at discussing. Ugandan farmers urgently need this technology. Our political leaders need to pass enabling legislations to facilitate this," said Daniella Kagina, president of the Makerere University Debate Union. Dubbed as "Biotech Happy Hour", the event got many other students fired up, with compelling submissions in favor of modern biotechnology. Furthermore, the students asked that the discussion on agricultural biotechnology be taken further to the grassroots and special effort must be made to involve stakeholders who are skeptical of the technology.
The event, organized by Uganda Biosciences Information Center (UBIC), also featured a screening of the Food Evolution movie. The movie paints a picture of progress and navigates the thorny landscape of a heated global debate on agricultural biotechnology.
Over 80 participants appreciated the need to embrace modern agricultural biotechnology to address some of the most pressing challenges such as pests, diseases, and climate change. Furthermore, they pledged to engage their colleagues on this topic in a bid to further raise awareness and concretize support for the adoption of advancements in agriculture particularly in developing countries like Uganda.
In a related but separate event, farmers in Omoro district northern Uganda also called on their leaders to rally support for the delayed legislation on biotechnology. This was during a one-day biotechnology awareness workshop at Omoro District Council Hall on November 2, 2018, which brought together religious leaders, farmers, and local government representatives. The chief guest, Hon. Catherine Lamwaka, who is also Omoro district woman member of parliament promised to support the biotech bill and also present the farmers' views when the bill returns to parliament for debate this week.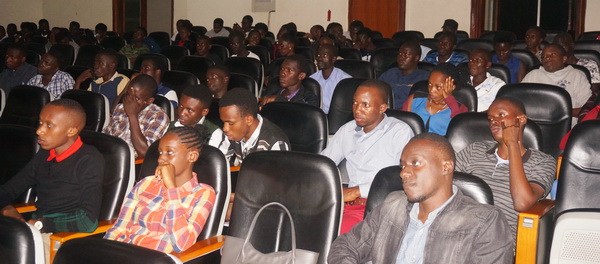 For more details, contact the UBIC Coordinator at ubic.nacrri@gmail.com.
Biotech Updates is a weekly newsletter of ISAAA, a not-for-profit organization. It is distributed for free to over 22,000 subscribers worldwide to inform them about the key developments in biosciences, especially in biotechnology. Your support will help us in our mission to feed the world with knowledge. You can help by donating as little as $10.