Kenyan Stakeholders Advocate Harnessing Innovations in Biotech to Curb Plastic Pollution
June 13, 2018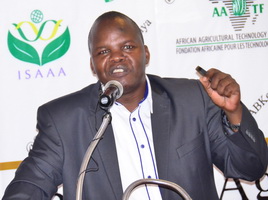 Scientists are calling for use of biotechnology to curb the plastic pollution menace. The call was made during an Open Forum on Agricultural Biotechnology in Africa (OFAB) session held in Kenya as part of the celebrations to mark the World Environment Day on June 5, 2018, with the theme Beat Plastic Pollution. Dr. Romano Mwirichia, a Kenyan university researcher in Microbiology said there is promising research indicating living microorganisms can be genetically engineered to help degrade plastics. "Researchers must come together to look into how biotechnology can be used to make biodegradable plastics to replace synthetic plastics," Dr. Mwirichia said.
He said starch should be incorporated into polymers in the manufacture of plastics in order to help disintegrate plastics into fragments that can be broken down by microorganisms in the environment. ISAAA AfriCenter Director Dr. Margaret Karembu echoed Dr. Mwirichia's sentiments observing that as science was instrumental in the discovery of plastics, it should also be employed in finding sustainable solutions to the menace they have created. Dr. Karembu particularly commended the Kenyan government for imposing a ban on the use, manufacture, and importation of single-phased plastics.
Francis Mulaa, Professor of Biochemistry at the University of Nairobi called for more efforts to promote industrial and environmental biotechnology saying this will create more jobs and ensure a sustainable and healthy environment. Stakeholders at the forum also expressed enthusiasm at the prospects of research to generate evidence for informing policies to enable biotechnology as it plays a role in plastic waste management. Evans Ondieki, a former Nairobi County Executive Member for Environment, urged the stakeholders to engage champions who will carry the message forward and get the necessary governmental support for funding relevant research aimed at the betterment of the environment.
For more information, contact Dr. Margaret Karembu at mkarembu@isaaa.org.
The Crop Biotech Update is a weekly newsletter of ISAAA, a not-for-profit organization. The CBU is distributed for free to over 23,000 subscribers worldwide to inform them about the key developments in biosciences, especially in agricultural biotechnology. Your support will help us in our mission to feed the world with knowledge. You can help by donating as little as $10.
See more articles:

News from Around the World

Research Highlights

Plant Breeding Innovations

Beyond Crop Biotech

Announcements

Resources


Read the latest:


Subscribe to CBU: