Kenya Starts Planting Biotech Cotton Under National Performance Trials
Kenya is one step away from commercializing Bt cotton following the commencement of National Performance Trials (NPTs) to identify suitable varieties for different agro-ecological zones. This comes after the National Environmental Management Authority (NEMA) granted an Environmental Impact Assessment license to Kenya Agricultural Livestock and Fisheries Organization (KALRO) to undertake the trials.
Researchers Find Potential Fusarium Wilt Resistance Gene in Tomato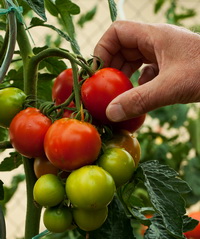 The reduced mycorrhizal colonization (rmc) tomato mutant is unable to form mycorrhiza and is more susceptible to Fusarium wilt. The rmc mutant has a chromosomal deletion affecting five genes, one of which is similar to CYCLOPS. Loss of this gene is the cause for non-mycorrhizality in rmc, but not the enhanced Fusarium wilt susceptibility.

A biweekly update on genome editing research, regulations, and impact
produced by ISAAA Inc.

A monthly update on gene drive research and development provided by ISAAA in collaboration with the Outreach Network for Gene Drive Research
GM APPROVAL UPDATES
Turkey approved the maize event MON87427 for feed.
Australia and New Zealand approved the wheat event HB4 for food.

The USA approved the canola event NS-B5ØØ27-4 for food and feed.
Canada approved canola event LBFLFK for food.
The USA approved canola event LBFLFK for food and feed.
The USA approved soybean event GMB151 for cultivation.

The Crop Biotech Update is a weekly newsletter of ISAAA, a not-for-profit organization. The CBU is distributed for free to over 23,000 subscribers worldwide to inform them about the key developments in biosciences, especially in agricultural biotechnology. Your support will help us in our mission to feed the world with knowledge. You can help by donating as little as $10.