African Women for Biosciences Platform Launched
May 16, 2018
Women in biosciences remain grossly under represented in leadership and decision-making levels, limiting contribution of scientific research to national development. A new platform - the African Women for Biosciences (AWfB), launched on May 10, 2018 in Nairobi aims to address some of the challenges faced by women in biosciences. The event was part of Kenya's 7th National Science week celebrations under the National Commission for Science, Technology and Innovation (NACOSTI).
Kenya's Public Service, Youth and Gender Affairs Cabinet Secretary, Prof. Margaret Kobia, officiated the launch and expressed her optimism about the network saying it will provide a unique platform to share experiences and critical learning in scientific research and innovations. "This is a very welcome initiative and will serve to compliment government's effort in women empowerment, especially for the many marginalized women living in rural areas, who in reality bear the biggest burden of underdevelopment," she said.
During the launch, the chair of Africa Union/NEPAD High Level Panel on Emerging Technologies, Prof. Yaye Kene Gassama, said the platform offers an opportunity for women scientists to shape up the future. "Investing in education, especially for vulnerable groups, is an effective way to achieving sustainable transformation in our society," Prof. Gassama remarked. She challenged the Kenyan women to create bio-enterprise start-ups saying this is one of the most powerful strategies to reduce unemployment of women and youth.
AWfB is a network of women with interest and passion in Science, Technology, and Innovation (ST&I). It aims to play a significant role in strengthening the capacity of African women to engage in biosciences and policy dialogue for sustainable livelihoods. The network, initiated in April 2017, is a brainchild of ISAAA AfriCenter. Dr. Margaret Karembu, Kenya chapter's chairperson revealed that the new outfit will support the government's effort towards implementation of The Big Four Action Plan. "This is a platform for women to engage the public on bioscience issues and advocate for investment in innovations that promote bio-based enterprises for sustainable livelihoods," she explained. She also called on men to support the network to help bridge the gender equity gap and ensure women realize their dreams.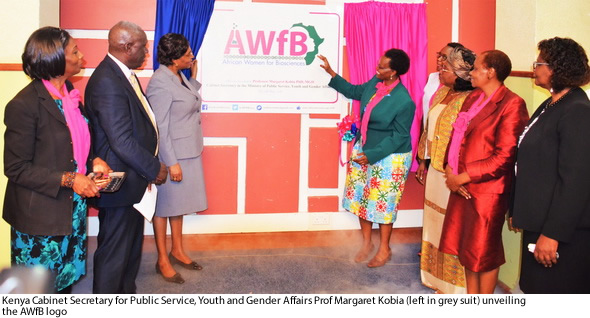 Membership is open to corporate organizations and affiliates that support gender equity through the ISAAA AfriCenter website. Know more about AWfB by downloading the AWfB Brochure or contact Dr. Margaret Karembu at mkarembu@isaaa.org.
Biotech Updates is a weekly newsletter of ISAAA, a not-for-profit organization. It is distributed for free to over 22,000 subscribers worldwide to inform them about the key developments in biosciences, especially in biotechnology. Your support will help us in our mission to feed the world with knowledge. You can help by donating as little as $10.