Genome Editing of CLAVATA Genes in Canola Regulates Multilocular Silique Development
January 10, 2018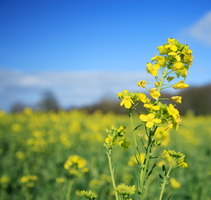 Multilocular silique is a desirable agricultural trait with great potential for developing high-yield varieties of Brassica. However, no induced multilocular mutants have been reported in canola (Brassica napus) due to its allotetraploid nature. Yang Yang from Huazhong Agricultural University in China has found the efficient knockout of canola homologues of CLAVATA3 (CLV3) and its related receptors, CLV1 and CLV2, in the CLV signalling pathway using the CRISPR-Cas9 system.
The multilocular phenotype can be achieved only in knockout mutations of the two copies of the BnCLV gene. The double mutation of BnCLV3 produced more leaves and multilocular siliques with a significantly higher number of seeds per silique and a higher seed weight than the wild-type and single mutant plants, potentially contributing to increased seed production.
These findings reveal the potential of CRISPR in improving yield traits in canola varieties.
For more information, read the article in Plant Biotechnology Journal.
Biotech Updates is a weekly newsletter of ISAAA, a not-for-profit organization. It is distributed for free to over 22,000 subscribers worldwide to inform them about the key developments in biosciences, especially in biotechnology. Your support will help us in our mission to feed the world with knowledge. You can help by donating as little as $10.
See more articles:

News from Around the World

Research Highlights

Beyond Crop Biotech

From the BICs

Resources

Plant


Read the latest:


Subscribe to BU: