QUT Grows World's First Panama Disease-Resistant Bananas
November 22, 2017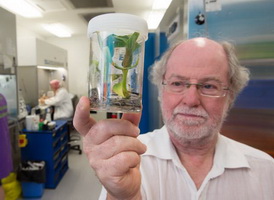 Researchers from Queensland University of Technology (QUT) have developed and grown modified Cavendish bananas that are resistant to the devastating soil-borne fungus Fusarium wilt tropical race 4 (TR4), also known as Panama disease.
Led by Distinguished Professor James Dale from QUT's Centre for Tropical Crops and Biocommodities, the field trial, which ran from 2012 to 2015 was conducted on a commercial banana plantation that was previously affected by TR4. The soil was heavily reinfested with disease for the trial.
In their world-first GM field trial conducted in heavily TR4-infested soil, Cavendish Grand Nain was modified by the researchers with the RGA2 gene, taken from the TR4-resistant wild, southeast Asian banana subspecies, Musa acuminata ssp malaccensis. One modified Cavendish line (RGA2-3) remained TR4-free for three years of the trial, while three other lines modified with RGA2 showed strong resistance, with 20% or fewer plants exhibiting disease symptoms in three years.
By contrast, 67%-100% of control banana plants after three years were either dead or TR4-infected, including a Giant Cavendish variant 218 generated through tissue culture in Taiwan and reported to be tolerant to TR4. The researchers found RGA2 gene activity level in the modified bananas was 'strongly correlated' with TR4 resistance.
For more details, read the QUT news release.
Biotech Updates is a weekly newsletter of ISAAA, a not-for-profit organization. It is distributed for free to over 22,000 subscribers worldwide to inform them about the key developments in biosciences, especially in biotechnology. Your support will help us in our mission to feed the world with knowledge. You can help by donating as little as $10.