Nigeria Stakeholders Embrace Bt Cotton as a Solution for Revamping the Textile Industry
November 22, 2017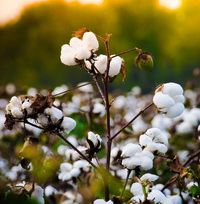 Cotton stakeholders in Nigeria have agreed that Bt cotton has the potential to revive the deteriorating cotton textile industry in the country. A stakeholders meeting held in Abuja on November 8, 2017 attended by representatives from seed companies, government ministries, agencies, and farmers resolved that embracing Bt cotton is a viable way of addressing cotton farming challenges.
Nigeria's Minister of State for Trade and Investment, Aisha Abubakar, said the country has no option but to embrace the technology to help improve the lives of farmers and create jobs for the teeming population. "We cannot allow people to import Bt cotton into Nigeria, we now have the people, the technology, and the land to practice how to take full advantage of the technology to address our own challenges," she said.
All Farmers Association of Nigeria president, Arc. Kabiru Ibrahim, said that it is important that Nigeria take its pride in cotton production by embracing Bt cotton, and exuding confidence that it will alleviate poverty among the farmers.
The National Biosafety Management Agency approved Bollgard II cotton for on-station/on-farm trials in Nigeria in 2016 and it is currently undergoing last stage of multi-location trials in over 72 locations in the nation's cotton growing zones. The project has already been endorsed by Agriculture and Rural Development Minister, Audu Ogbe, and stakeholders in the country are now strategizing on eventual uptake and release of Bollgard II cotton to farmers.
For more information on biotech/biosafety developments in Nigeria, contact Alex Abutu at alexyabutu@gmail.com.
Biotech Updates is a weekly newsletter of ISAAA, a not-for-profit organization. It is distributed for free to over 22,000 subscribers worldwide to inform them about the key developments in biosciences, especially in biotechnology. Your support will help us in our mission to feed the world with knowledge. You can help by donating as little as $10.