Smallholder Farmers to Gain from Gene Editing Technology
November 2, 2017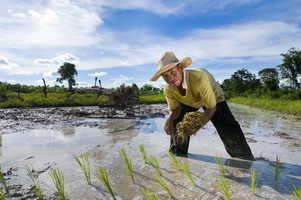 Gene editing technology, such as the use of CRISPR-Cas9, could revolutionize the development of high-yielding, drought-, disease- and pest-resistant, and quality plant seeds; with lesser time of development compared to current breeding methods. These were highlighted by a panel of expert scientists at the 2017 Borlaug Dialogue conference held on October 18-20, 2017 in Des Moines, Iowa.
According to Feng Zhang, the originator of the technology who is a core member of the Broad Institute of MIT and Harvard University, CRISPR-Cas9 is almost as simple as editing a Microsoft Word document on a computer. To edit genes, the Cas9 protein is programmed to create an RNA search string, which can search and edit paired DNA to change a genome to get desired results in plants, Zheng explained. "There's a lot of exciting opportunity to apply this technology in both human health and in agriculture," he said.
Scientist at the International Maize and Wheat Improvement Center (CIMMYT) also aim to use the breakthrough technology to help smallholder farmers in the developing world address food security, nutrition shortcomings and economic threats to their livelihoods caused by climate change, pests and disease. They acknowledge the potential of the technology to reduce the use of pesticides, and to boost nutrition through biofortification of crops.
"We want sustainable agriculture that provides food and nutrition security for all, while enabling biodiversity conservation," said Kevin Pixley, who leads the Seeds of Discovery project and the Genetic Resources Program at CIMMYT. "CRISPR-Cas9 is an affordable technology that can help us close the technology gap between the resource rich and resource poor farmers of the world." Gene-edited varieties could also lessen the risk of investing in fertilizers, grain storage or other technologies, thereby contributing to "double benefits" for smallholder farmers, Pixley stressed.
More more details, read the news release from CIMMYT.
Biotech Updates is a weekly newsletter of ISAAA, a not-for-profit organization. It is distributed for free to over 22,000 subscribers worldwide to inform them about the key developments in biosciences, especially in biotechnology. Your support will help us in our mission to feed the world with knowledge. You can help by donating as little as $10.
See more articles:

News from Around the World

Research Highlights

Beyond Crop Biotech

From the BICs

Plant


Read the latest:


Subscribe to BU: