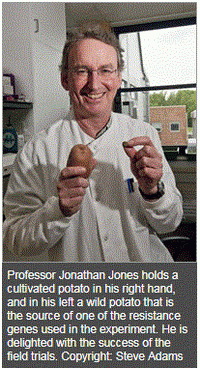 Technology has become the blight of the Irish potato famine pathogen. A research team led by Professor Jonathan Jones at The Sainsbury Laboratory in Norwich Research Park has successfully modified a potato to resist the devastating disease 'late blight' by introducing a blight-resistant gene from a wild potato to the popular Maris Piper.
Kenyan Stakeholders Prepare for Commercialization of Bt Cotton
Stakeholders in the cotton sub-sector in Kenya are eagerly awaiting the introduction of Bt cotton in the country. This was raised at a recent workshop to prepare officials from the Ministry of Agriculture, Livestock and Fisheries for the adoption of the GM crop. The workshop, also attended by representatives from Ministry of Industry, Trade and Cooperatives, was held in Embu, north-east of Nairobi on October 16-17, 2017 and aimed at developing skills and capacity for effective management of the GM crop.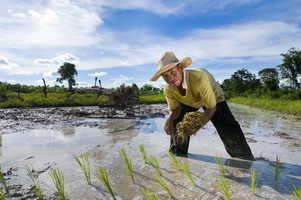 Gene editing technology, such as the use of CRISPR-Cas9, could revolutionize the development of high-yielding, drought-, disease- and pest-resistant, and quality plant seeds; with lesser time of development compared to current breeding methods. These were highlighted by a panel of expert scientists at the 2017 Borlaug Dialogue conference held on October 18-20, 2017 in Des Moines, Iowa.
NEWS FROM AROUND THE WORLD

PLANT

RESEARCH HIGHLIGHTS

News Archive | Translations

A biweekly update on gene editing research, regulations, and impact
produced by ISAAA Inc.

A monthly update on gene drive research and development provided by ISAAA in collaboration with the Outreach Network for Gene Drive Research
Biotech Updates is a weekly newsletter of ISAAA, a not-for-profit organization. It is distributed for free to over 22,000 subscribers worldwide to inform them about the key developments in biosciences, especially in biotechnology. Your support will help us in our mission to feed the world with knowledge. You can help by donating as little as $10.