Found: Gene to Help Hybrid Wheat Breeding
October 18, 2017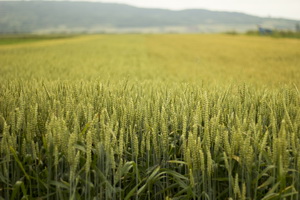 Researchers at Australia's University of Adelaide, in collaboration with US-based company DuPont Pioneer, have identified the wheat gene that, when turned off, eliminates self-pollination but still allows cross-pollination – opening the way for breeding high-yielding hybrid wheats.
The researchers say the discovery and the associated breeding technology have the potential to radically change the way wheat is bred. Dr. Ryan Whitford, Hybrid Wheat Program Leader at the University of Adelaide's School of Agriculture, Food and Wine said that wheat is the world's most widely grown crop, delivering around 20% of total food calories and protein to the world's population. He said that wheat production needs to increase by 60% in 2050 to meet the increased demand from predicted population growth.
"The pollination gene is 'biologically contained' to the breeding process and does not make its way past the grandparent stage in producing the end-user hybrid seed," says Dr. Marc Albertsen, Research Director, DuPont Pioneer.
More details are available at the University of Adelaide News & Events.
The Crop Biotech Update is a weekly newsletter of ISAAA, a non-for-profit organization. The CBU is distributed for free to over 23,000 subscribers worldwide to inform them about the key developments in biosciences, especially in agricultural biotechnology. Your support will help us in our mission to feed the world with knowledge. You can help by donating as little as $10.
See more articles:

News from Around the World

Research Highlights

Plant Breeding Innovations

Beyond Crop Biotech

Resources


Subscribe to CBU: