Uganda President Calls for GM Crops Adoption in Africa
October 4, 2017
The President of the Republic of Uganda H.E. Yoweri Kaguta Museveni has called upon African states to embrace the use of agricultural biotechnology to transform agriculture and enhance food security. This was during the official opening of a High-level Conference on the Application of Science, Technology and Innovation (STI) in Harnessing African Agricultural Transformation held on September 27-29, 2017 in Kampala, Uganda.
In a speech delivered by the Cabinet Minister for Agriculture, Animal Industry and Fisheries Hon. Vincent Ssempijja, the president reiterated that scientific, technological and innovation advancement are a crucial precursor for industrialization and socioeconomic development in Africa. "Agriculture is the sector upon which the success of sub-Saharan Africa's ambition for a steady economic growth rests and our efforts must begin by strengthening investments in breakthrough technologies, such as climate resilient and disease resistant crops and livestock using both conventional and genetically engineered approaches," he said. "This technology is working elsewhere and we should not be left behind, the way we missed out on the green revolution that delivered food security to South East Asia," he added. As of this writing, the National Biotechnology and Biosafety Bill has been passed by the Parliament. His newly appointed Minister for Science, Technology and Innovation (MoSTI), Hon. Dr. Elioda Tumwesigye, also declared his support for the bill, stressing that it must be adopted for safe development and deployment of GM crops to boost food security and wealth creation in Uganda.
The high-level conference brought together government officials, delegates comprising of both African and international researchers, private sector and advocacy institution leaders, media personalities as well as scientists from agriculture and livestock sectors. It was organized by the African Agricultural Technology Foundation (AATF) in partnership with Uganda National Council for Science and Technology (UNCST), Common Market for Eastern and Southern Africa (COMESA), New Partnership for Africa's Development (NEPAD), Tropical Institute of Development Innovations (TRIDI), MoSTI and Open Forum on Agricultural Biotechnology in Africa (OFAB).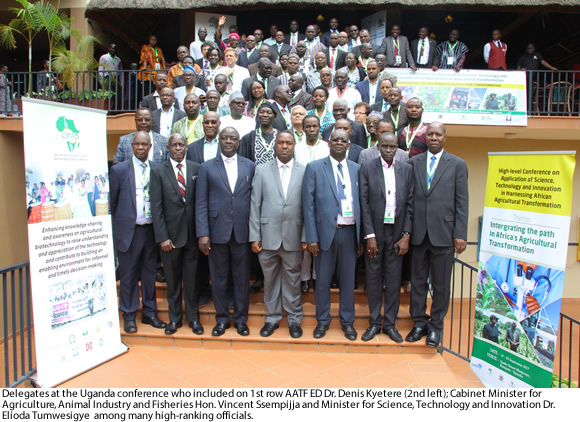 For more information on agri-biotech in Africa, contact Dr. Margret Karembu at mkarembu@isaaa.org.
Biotech Updates is a weekly newsletter of ISAAA, a not-for-profit organization. It is distributed for free to over 22,000 subscribers worldwide to inform them about the key developments in biosciences, especially in biotechnology. Your support will help us in our mission to feed the world with knowledge. You can help by donating as little as $10.