Uganda Biotechnology Research Boosted by New Facility
October 4, 2017
Uganda's biotech research received yet another boost with the launching of the largest state of the art rain out facility in the region. The facility is part of the capacity building by the NEWEST Rice program in Uganda to effectively breed for water use efficiency in the crop. Fitted with a movable roof, the facility will enable scientists to conduct controlled testing for drought tolerance in rice and other crops. The project aims to develop and release farmer preferred varieties that are Nitrogen-use Efficient, Water-use Efficient and Salt Tolerant (NEWEST) through genetic engineering.
Speaking at the launch on September 26, 2017, Dr. Sanni Kayode, Rice Project manager at African Agricultural Technology Foundation (AATF) noted that Uganda will be the first country in Africa to release a completely public GM technology if the National Biotechnology and Biosafety Bill is passed. To date, the Biosafety Bill has been passed by the Parliament of Uganda, and awaiting for the President's signature to be implemented as law. Dr. Kayode urged government officials present to fast track the passing of this bill that will allow commercial release of GM crops in the country. Dr. Jimmy Lamo, the principal investigator of the project pointed out that five of the NEWEST Rice lines have demonstrated higher yield potential under low soil nitrogen levels than NERICA 4-currently the most cultivated conventional variety in the country. "This is one of the arsenals to improve genetic gains in rice and consolidate the investments in a very important crop" asserted Dr. Godfrey Asea, Director National Crops Resources Research Institute where the facility is hosted.
The NEWEST Rice project is coordinated by the African Agricultural Technology Foundation (AATF) and other partners with support from USAID.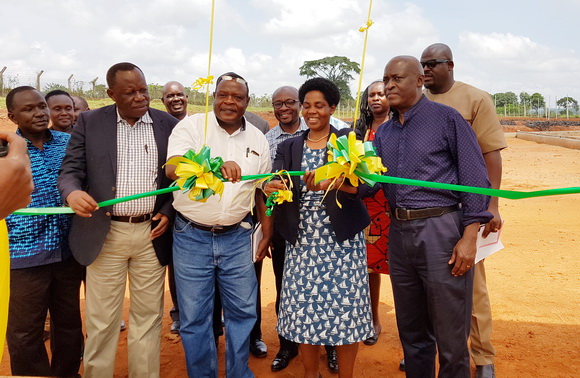 For more information on biotechnology in Uganda, contact the Uganda Biosciences Information Center Coordinator at ubic.nacrri@gmail.com.
Biotech Updates is a weekly newsletter of ISAAA, a not-for-profit organization. It is distributed for free to over 22,000 subscribers worldwide to inform them about the key developments in biosciences, especially in biotechnology. Your support will help us in our mission to feed the world with knowledge. You can help by donating as little as $10.