Bangladesh Ag Leaders Keen to Adopt Biotech Cotton
July 12, 2017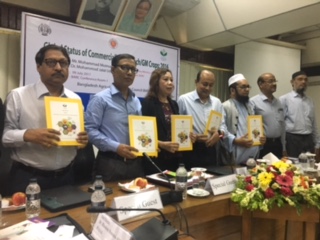 Bangladesh, the first country to plant biotech eggplant, is ready to adopt biotech cotton. This was expressed by the research and development leaders of the country during the seminar launch of ISAAA's Global Status of Commercialized Biotech/GM Crops for 2016, held on July 9, 2017 at the Bangladesh Agricultural Research Council (BARC) in Dhaka.
Chief Guest Additional Secretary of Agriculture Ministry Fazley Wahld Khandoker and heads of various government institutions expressed their appreciation to ISAAA for the valuable information provided by Dr. Rhodora R. Aldemita and Mr. Bhagirath Choudhary on the status, impact, and prospects of agri-biotechnology in 2016. Reactions imparted by panelists focused on the country's success in Bt brinjal adoption in the past three years, developments on the Golden Rice and late blight potato projects and more notably, the immediate interest in adopting biotech cotton.
Executive Director Dr. Farid Uddin of the Cotton Development Board opined that Bangladesh has been importing up to 6 million bales of cotton annually and planting biotech cotton in the country is the best solution to save the valuable monetary resources. He also added that logistical support for testing Bt cotton varieties will be put in place to expedite possible adoption. Consumers and farmers in Bangladesh are looking forward to the benefits of Bt cotton planting being experienced by neighboring Bt cotton countries, India and China.
The seminar was attended by some 75 heads and members of the government's agricultural R&D sector, regulators, and media. The seminar was organized by BARC with Executive Chairman Dr. Mohammad Jalal Uddin and Dr. Mustafizur Rahman as chair and moderator, respectively.
For more details on the seminar, contact knowledge.center@isaaa.org.
Biotech Updates is a weekly newsletter of ISAAA, a not-for-profit organization. It is distributed for free to over 22,000 subscribers worldwide to inform them about the key developments in biosciences, especially in biotechnology. Your support will help us in our mission to feed the world with knowledge. You can help by donating as little as $10.