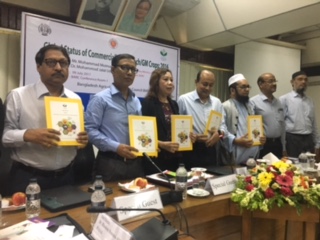 Bangladesh, the first country to plant biotech eggplant, is ready to adopt biotech cotton. This was expressed by the research and development leaders of the country during the seminar launch of ISAAA's Global Status of Commercialized Biotech/GM Crops for 2016, held on July 9, 2017 at the Bangladesh Agricultural Research Council (BARC) in Dhaka.
"Together with conducive and harmonized regulations, crop biotechnology innovations can help increase food production to address the needs of the growing global population, especially those in the developing countries like Uganda," said the Minister of State for Agriculture—Hon. Christopher Kibazanga. This was at the launch of the 2016 Global Status of Commercialized Biotech/GM Crops report on July 6, 2017 at Hotel Africana, in Kampala Uganda.
Development of Powdery Mildew Resistant Tomato via CRISPR-Cas9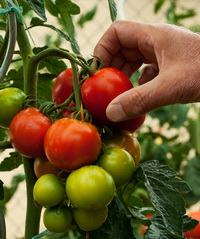 In tomato (Solanum lycopersicum), there are sixteen Mlo genes, with SlMlo1 being the major contributor to the susceptibility to the powdery mildew caused by Oidium neolycopersici. Natural loss-of-function slmlo1 mutants are available in tomato, however, introgression of such mutations is a lengthy process. The team of Vladimir Nekrasov from the Sainsbury Laboratory, Norwich Research Park in the UK aimed to generate a transgene-free genetically edited slmlo1 tomato using the CRISPR-Cas9 system.

A biweekly update on gene editing research, regulations, and impact
produced by ISAAA Inc.

A monthly update on gene drive research and development provided by ISAAA in collaboration with the Outreach Network for Gene Drive Research
Biotech Updates is a weekly newsletter of ISAAA, a not-for-profit organization. It is distributed for free to over 22,000 subscribers worldwide to inform them about the key developments in biosciences, especially in biotechnology. Your support will help us in our mission to feed the world with knowledge. You can help by donating as little as $10.