India's GEAC Approves GM Mustard for Commercial Planting
May 17, 2017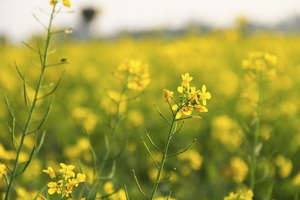 The Genetic Engineering Appraisal Committee (GEAC), India's GM crop regulator has recommended the commercial use of genetically modified (GM) mustard in a submission to the environment ministry. GEAC, which is under the Ministry of Environment, Forest and Climate Change (MOEF), reviewed a report of a sub-committee constituted to look at the safety angle.
The Centre for Genetic Manipulation of Crop Plants (CGMCP) and Delhi University South Campus, submitted an application to the GEAC in 2015 for the environmental release of GM mustard (Brassica juncea) hybrid Dhara Mustard Hybrid-11 (DMH-11) and the use of parental events (bn 3.6 and modbs 2.99 with barnase, barstar and bar genes) for the development of new hybrids. If approved, GM mustard will be the second GM crop to be planted in India, after Bt cotton's approval for commercial planting in 2004.
The environment ministry received over 750 comments from various stakeholders, including students, farmers, and researchers on the Assessment of Food and Environmental Safety (AFES) report on GM Mustard, which it had earlier posted on the ministry website. The report contains results of a thorough assessment of the biosafety data in comparison with international assessment made by well-known regulatory agencies such as the European Food Safety Authority (EFSA), Office of the Gene Technology Regulator (OGTR), and Canadian regulatory authorities, and existing peer-reviewed scientific literature on the subject. The report also addressed the specific uses of mustard in India and concluded that GM mustard was safe and nutritious for consumption.
Related information is available from The Press Trust of India. For more about the environmental release of GM mustard, read the ISAAA Brief 52 Global Status of Commercialized Biotech/GM Crops: 2016.
Biotech Updates is a weekly newsletter of ISAAA, a not-for-profit organization. It is distributed for free to over 22,000 subscribers worldwide to inform them about the key developments in biosciences, especially in biotechnology. Your support will help us in our mission to feed the world with knowledge. You can help by donating as little as $10.
See more articles:

News from Around the World

Research Highlights

Beyond Crop Biotech

Resources

Plant


Read the latest:


Subscribe to BU: