Development of Canker-Resistant Citrus through CRISPR-Cas9 Editing of Susceptibility Gene Promoter
May 10, 2017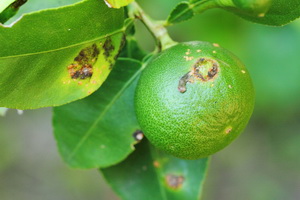 Citrus canker caused by Xanthomonas citri subsp. citri (Xcc) is damaging to the global citrus industry. Targeted editing of host disease-susceptibility genes could be a good alternative to plant breeding for resistance. Chinese researchers, led by Aihong Peng of Chinese Academy of Agricultural Sciences and National Center for Citrus Variety Improvement and Southwest University in China report the improvement of citrus canker resistance through CRISPR-Cas9.
Wanjincheng orange (Citrus sinensis Osbeck) has at least three copies of the CsLOB1G allele and one copy of the CsLOB1− allele. The promoter of both alleles contains the effector binding element (EBEPthA4). Five pCas9/CsLOB1sgRNA constructs were designed to target and modify the EBEPthA4 of the CsLOB1 promoter.
Sixteen lines that contained EBEPthA4 modifications were identified. From there, four mutation lines (S2-5, S2-6, S2-12 and S5-13), showed enhanced resistance to citrus canker compared to wild types. Furthermore, no canker symptoms were observed in the S2-6 and S5-13 lines.
These results demonstrate that CRISPR-Cas9 editing of the CsLOB1 promoter is an efficient strategy for generation of canker-resistant cultivars.
For more on this study, read the article in Plant Biotechnology Journal.
Biotech Updates is a weekly newsletter of ISAAA, a not-for-profit organization. It is distributed for free to over 22,000 subscribers worldwide to inform them about the key developments in biosciences, especially in biotechnology. Your support will help us in our mission to feed the world with knowledge. You can help by donating as little as $10.
See more articles:

News from Around the World

Research Highlights

Beyond Crop Biotech

Resources

Plant


Read the latest:


Subscribe to BU: