African Women in Biosciences Call for Supportive Policies on Biotechnology
April 26, 2017
Kenyan women in biosciences expressed their concerns on the unpredictable biotechnology and biosafety policy environment and urged the government to streamline coordination between relevant regulatory arms to enable research. The women were speaking during the inaugural Women in Biosciences Forum held in Nairobi, Kenya on April 20, 2017.
Dr. Felister Makini, Deputy Director General (crops) at the Kenya Agricultural & Livestock Research Organization (KALRO), noted that African women play a critical role in ensuring food security. She urged the government to make farming easier for them by providing modern tools such as biotechnology. "As African women, we are the ones who suffer most whenever drought and food shortages strike, despite the availability of technological solutions to these problems," she said. "We need to speak with one voice and advocate for a predictable policy environment. I have children and a family to protect. I cannot advocate for something that I know would affect them" she added.
Hailing Kenyan government's intention to revive the textile industry by introducing Bt cotton, Dr. Margaret Karembu, Director, ISAAA AfriCenter, observed that despite demonstrated will and long history of safe use "conflicting messages" between different ministries and regulatory agencies were hampering progress in delivering the technology to farmers. She also echoed the need for African women in science to intensify engagement with government and help clarify long-standing misconceptions on the technology.
On her part, Prof. Caroline Thoruwa, Chairperson, African Women in Science and Engineering (AWSE), noted that for Africa to advance in agri-biotech, women must be involved. "It is time to tell the public about the positive side of biotechnology. We need to raise up the status of women in biotechnology and also encourage women to network in order to achieve the noble goal of sharing their science," she said.
Participants pledged commitment to speak up for the technology and urged the President and his deputy to increase investment in biotechnology, enhance participation of women scientists in decision making and review the GMO ban to enable advancement of local research, training, and innovation.
The forum was attended by over 60 professional women with interest and passion for science from academia, research, policy, and industry. It was organized by ISAAA AfriCenter in partnership with AWSE, Program for Biosafety Systems (PBS) and OFAB-Kenya. Its main objective was to bring together women in science to amplify their voices on issues touching on biotechnology and biosafety.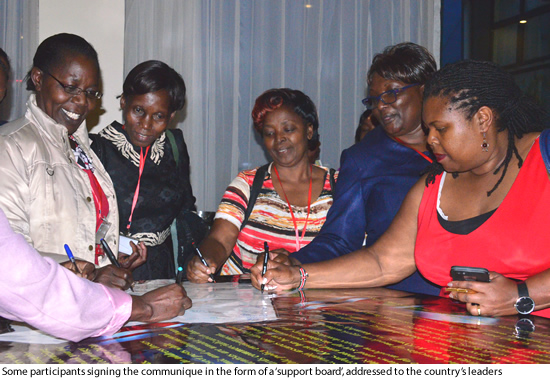 For more information on the event contact Mary Mwangi, Secretary, African Women in Science and Engineering at mwangi.mary@ku.ac.ke.
Biotech Updates is a weekly newsletter of ISAAA, a not-for-profit organization. It is distributed for free to over 22,000 subscribers worldwide to inform them about the key developments in biosciences, especially in biotechnology. Your support will help us in our mission to feed the world with knowledge. You can help by donating as little as $10.
See more articles:

News from Around the World

Research Highlights

Beyond Crop Biotech

Announcements

Resources

Plant


Read the latest:


Subscribe to BU: