Kenyan Youth Farmers Call for Adoption of WEMA Bt Maize
April 6, 2017
Kenyan youth farmers have rallied behind researchers in urging government to allow commencement of National Performance Trials (NPTs) for the Water Efficient Maize for Africa (WEMA) Bt maize. The farmers were speaking during the 2017 agri-biotech forum held at University of Embu, eastern Kenya on March 29-30, 2017.
While expressing his excitement about the technology, a farmer, Paul Musui, said it was not clear why the government is preventing a technology that is being practiced elsewhere from benefitting Kenyan farmers. "We have continued to suffer heavy losses from perennial droughts and insect pests, yet a technology that can address these issues exists, "said Mr. Musui. His sentiments were supported by more than 50 farmers from various regions across the country. "From what I have learned in this forum, genetically modified crops have been grown in other countries for over 20 years without any harmful effects," he added.
Ms. Faith Musyimi from Kenya Plant Health Inspectorate Service (KEPHIS) assured delegates that the authority already had appropriate guidelines to conduct NPTs on WEMA Bt maize. "We are ready to proceed once the National Environment Management Authority (NEMA) gives a go-ahead as per the approval conditions," assured Ms. Musyimi who represented KEPHIS at the function.
The youthful farmers who proudly said that they were into farming ''by choice" decried use of old technologies while youths in other countries benefitted from GE technology. "I am a farmer by choice. I left my work as an automotive engineer to become a farmer. So, if there is a way I can benefit why won't the government allow it? It will even make agriculture more attractive to the youth in this country," said Mr. Musui.
While opening the forum, Prof. Paul Musili Wambua, Chancellor, University of Embu, noted that agricultural production has remained vulnerable to climate change due to failure to adopt appropriate technologies. He urged the government to hasten the adoption of biotechnology in order to make the country more food secure. "The challenges of global warming are real, changes in rainfall patterns, dwindling water levels across dams, lakes and rivers are indeed a warning call to every citizen of the world. If we do not adopt new technologies, we run the risk of reducing our people to net importers of all the food that they require," he said.
The forum organized by Open Forum on Agricultural Biotechnology (OFAB-Kenya), Program for Biosafety Systems and the University of Embu brought together young farmers from more than 15 counties in Kenya, students, researchers and policy makers. The forum intended to raise awareness on GMOs among the farmers so that they can cascade the information to the grassroots in a youth-led agri-biotech awareness campaign.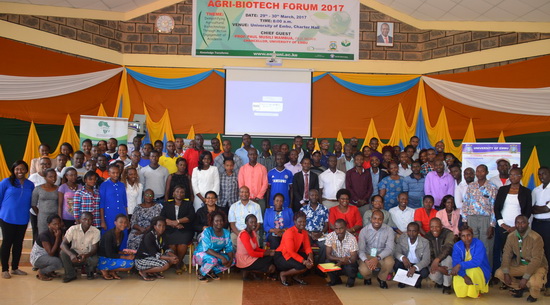 For more information on the event contact Dr. Margaret Karembu, Director, ISAAA AfriCenter at mkarembu@isaa.org.
Biotech Updates is a weekly newsletter of ISAAA, a not-for-profit organization. It is distributed for free to over 22,000 subscribers worldwide to inform them about the key developments in biosciences, especially in biotechnology. Your support will help us in our mission to feed the world with knowledge. You can help by donating as little as $10.
See more articles:

News from Around the World

Research Highlights

Beyond Crop Biotech

Resources

Plant


Read the latest:


Subscribe to BU: