East Africa Gears for Synthetic Biology
March 22, 2017
East African countries have the potential to apply synthetic biology in various spheres of their economies. This was observed by participants of the UK-East Africa workshop on synthetic biology held in Nairobi, Kenya, from March 15 to 17, 2017. The workshop, organized by Kenya's National Commission for Science, Technology and Innovation (NACOSTI) in collaboration with Imperial College London brought together researchers and policymakers from Ethiopia, Kenya, Uganda and Tanzania to interact with academics and entrepreneurs from Imperial College London, University of Cambridge, University of Edinburgh and the John Innes Centre, where synthetic biology applications have been thriving.
Synthetic biology, a relatively new concept, especially in Africa, is a field of biology that adopts an engineering approach for the systematic design and construction of new biological systems and cells. This workshop therefore aimed at identifying specific challenge areas that would benefit from the application of practical synthetic biology technologies in the region. The technology has demonstrated potential for application to solve challenges in the areas of disease detection, agriculture, environment, and industrial processes.
"The choice of Kenya as the first host of such a workshop in the region couldn't have been better due to the commitment and leadership of her government in science and innovation," said Dr. Julia Kemp, head of Department for International Development (DFID) East Africa Research Hub at the opening of the workshop. Dr. Moses Rugutt, Director General, NACOSTI said cooperation between Kenya and UK runs deep, noting that this partnership in identifying areas where synthetic biology may be applied takes scientific research and innovation a notch higher.
Participants called for proper messaging about the technology, saying it holds great potential for the region's bioeconomy growth. "East Africa must not always be left behind when technological revolutions happen," noted Dr. Charles Mugoya of Uganda emphasizing that the region has the capacity for scientific innovations. "To avoid fear and misconceptions on its application, communication and messaging on synthetic biology and international agreements such as the Nagoya Protocol on Access and Benefit Sharing need to be well planned," observed Dr. Margaret Karembu, Director, ISAAA AfriCenter.
A concern raised was lack of motivation for innovation in the region's youth who miss out on global synthetic biology activities such as the International Genetically Engineered Machine (iGEM) competition. Over the last 10 years iGEM has worked with students from various parts of the world to solve real challenges through self-crafted synthetic biology projects. "Let us partner and ensure our young scientists participate in these ventures that promote creativity and innovation," said Dr. Douglas Miano from University of Nairobi, calling for collaboration in teaching and training of synthetic biology in the region's universities.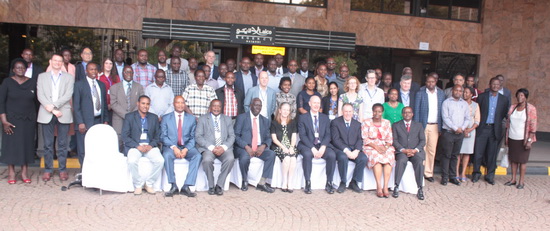 The workshop was supported by UK Research and Innovation (UKRI), specifically the Biotechnology and Biological Sciences Research Council (BBSRC). For more information concerning the workshop, contact Dr. Benson Mburu of NACOSTI at bmkinyagia@gmail.com or Prof. Paul Freemont, Imperial College London at p.freemont@imperial.ac.uk.
Biotech Updates is a weekly newsletter of ISAAA, a not-for-profit organization. It is distributed for free to over 22,000 subscribers worldwide to inform them about the key developments in biosciences, especially in biotechnology. Your support will help us in our mission to feed the world with knowledge. You can help by donating as little as $10.
See more articles:

News from Around the World

Research Highlights

Beyond Crop Biotech

Announcements

Resources

Plant


Read the latest:


Subscribe to BU: