Religious Leaders in Uganda Learn about New Agricultural Technologies
March 15, 2017
Top religious leaders under the coordination of Inter-Religious Council of Uganda were hosted for an exposure tour at the National Crops Resources Research Institute on March 7, 2017. The tour was part of the on-going effort to educate key stakeholder audiences, on the recent developments in agricultural research on food security, nutrition, and climate change resilience. Organized by Uganda Biosciences Information Center (UBIC), the tour brought together over 30 delegates from the Catholic, Orthodox, Adventist, Islamic, and Pentecostal faiths.
The half-day tour combined plenary presentations, laboratory visits, and a field tour. The keynote address was given by Dr. Titus Alicai, on behalf of the Director of Research at the National Crops Resources Research Institute. In his presentation, Dr. Alicai noted how the research institute was using all tools at their disposal to address critical agricultural challenges such as pests and diseases, soil infertility, and climate change. He singled out biotechnology as a key complementary tool to traditional approaches, in addressing difficult problems such as brown streak virus in cassava.
Religious leaders, though fascinated by the power of biotechnology, seemed to have mixed reactions about it. Some welcomed the idea of applying this tool where it has a comparative advantage to traditional approaches, while others called for a thorough precaution until all public concerns are addressed. The religious leaders pointed out health and environmental concerns, control by multinationals, farmers' right to save seed, patents, and availability of markets as key concerns to look into.
The plenary presentation was followed by a tour of tissue culture and molecular laboratories, and the field. The secretary general for Inter-Religious Council of Uganda, Mr. Joshua Kitakule appreciated the engagement, and requested for more in future, to help them gain a deeper understanding of biotechnology. He noted that as religious leaders, they interact with large audiences on a regular basis, many of which could be potential beneficiaries of such technologies.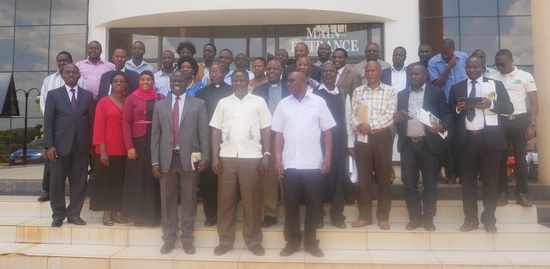 For more information about biotechnology in Uganda, send an e-mail to the UBIC Coordinator at ubic.nacrri@gmail.com.
Biotech Updates is a weekly newsletter of ISAAA, a not-for-profit organization. It is distributed for free to over 22,000 subscribers worldwide to inform them about the key developments in biosciences, especially in biotechnology. Your support will help us in our mission to feed the world with knowledge. You can help by donating as little as $10.
See more articles:

News from Around the World

Research Highlights

Beyond Crop Biotech

Resources

Plant


Read the latest:


Subscribe to BU: