A High-Efficiency CRISPR-Cas9 System for Targeted Mutagenesis in Cotton
March 8, 2017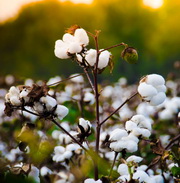 The complex allotetraploid genome is one of the major challenges for repressing gene expression in cotton. Hence, developing a site-specific DNA mutation is a dream for cotton breeders. The CRISPR-Cas9 system is a robust technique for targeted-DNA mutation. Using the CRISPR-Cas9 system, Chao Li from East Carolina University designed two sgRNAs, GhMYB25-like-sgRNA1 and GhMYB25-like-sgRNA2, for direct Cas9-mediated allotetraploid cotton genome editing.
High proportions of CRISPR-Cas9-induced specific truncation events, either from GhMYB25-like A DNA site or from GhMYB25-like D DNA site, were detected in 50% of the examined edited cotton. Further analysis also revealed that 100% and 98.8% mutation frequency occurred on GhMYB25-like-sgRNA1 and GhMYB25-like-sgRNA2 target sites, respectively. All examined samples had no off-target-caused mutation events.
These results demonstrate that CRISPR-Cas9 can be used to generate DNA level mutations on allotetraploid cotton genome.
For more information, read the article in Nature.
Biotech Updates is a weekly newsletter of ISAAA, a not-for-profit organization. It is distributed for free to over 22,000 subscribers worldwide to inform them about the key developments in biosciences, especially in biotechnology. Your support will help us in our mission to feed the world with knowledge. You can help by donating as little as $10.
See more articles:

News from Around the World

Research Highlights

Beyond Crop Biotech

Announcements

Resources

Plant


Read the latest:


Subscribe to BU: