Development of Gene-Specific Rice Mutants via AvrXa23-based TALENs
February 8, 2017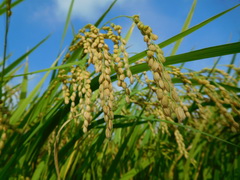 Transcription activator-like effector nucleases (TALENs) are increasingly used as a powerful tool for genome editing in a variety of organisms. Previous studies have cloned the gene avrXa23 from Xanthomonas oryzae pv. oryzae and developed an AvrXa23-based assembly system for TALENs. Fu-jun Wang of the Chinese Academy of Agriculture Sciences used TALENs to induce mutagenesis of rice ethylene response factor (ERF) transcription factor OsERF922 to test the gene-editing efficiency of AvrXa23-based TALENs system.
A pair of TALENs (T-KJ9/KJ10) was assembled and then used for rice transformation. The team observed targeting somatic mutagenesis frequency of 15.0% in transgenic rice calli and obtained two mutant plants with nucleotide deletion or insertion at the designer target region. These results show that the AvrXa23-based TALENs system can be used for site-specific genome editing in rice.
For more on this study, read the article in the Journal of Integrative Agriculture.
Biotech Updates is a weekly newsletter of ISAAA, a not-for-profit organization. It is distributed for free to over 22,000 subscribers worldwide to inform them about the key developments in biosciences, especially in biotechnology. Your support will help us in our mission to feed the world with knowledge. You can help by donating as little as $10.
See more articles:

News from Around the World

Research Highlights

Beyond Crop Biotech

Plant


Read the latest:


Subscribe to BU: