Rothamsted Research Granted Permission by Defra to Conduct GM Wheat Field Trials
February 8, 2017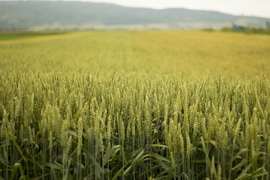 The Department for Environment, Food and Rural Affairs (Defra) has granted permission to Rothamsted Research to conduct field trials of wheat plants genetically modified (GM) to carry out photosynthesis more efficiently. The field trial will evaluate the performance of the engineered plants in the field.
Scientists at Rothamsted Research, together with researchers at the University of Essex and Lancaster University, have developed wheat plants with increased efficiency to convert energy from sunlight into biomass. Rothamsted Research submitted the application to Defra on November 3, 2016, for permission to carry out GM field trials on the Rothamsted Farm between 2017 and 2019. The risk assessment was reviewed by the independent Advisory Committee on Releases to the Environment (ACRE), and a 48-day public consultation was carried out by Defra. All scientific issues raised by the public with respect to this application have been addressed, according to ACRE.
Dr. Malcolm Hawkesford, Head of the Plant Biology and Crop Science Department at Rothamsted Research and lead scientist at Rothamsted for this trial said, "The trial will be a significant step forward as we will be able to assess in 'real environmental conditions' the potential of these plants to produce more using the same resources and land area as their non-GM counterparts. These field trials are the only way to assess the viability of a solution that can bring economic benefits to farmers, returns to the UK taxpayer from the long-term investment in this research, benefits to the UK economy as a whole and the environment in general."
For more details, read the news release from Rothamsted Research.
Biotech Updates is a weekly newsletter of ISAAA, a not-for-profit organization. It is distributed for free to over 22,000 subscribers worldwide to inform them about the key developments in biosciences, especially in biotechnology. Your support will help us in our mission to feed the world with knowledge. You can help by donating as little as $10.
See more articles:

News from Around the World

Research Highlights

Beyond Crop Biotech

Plant


Read the latest:


Subscribe to BU: