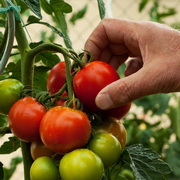 Scientists are paving the way for better tasting tomatoes. Denise Tieman from Chinese Academy of Agricultural Sciences and co-researchers conducted an extensive genetic analysis of almost 400 tomato varieties, including heirloom varieties and sweet-tasting cherry tomatoes. They identified some of the components of tomatoes which make them flavorful. Results indicate that many of these components are already lost or available in low concentrations in modern commercial varieties of tomato. The research team identified the genes involved in the production of the flavorful components to provide insight on how to develop better tasting tomatoes using molecular breeding.
Kenyan Farmers Urge the Gov't to Release WEMA Bt Maize Amid Ravaging Drought
Farmers in Kirinyaga County, Central Kenya have reiterated their call on the government to lift the ban on GM food imports that was imposed by a cabinet decision in 2012. The farmers spoke during a field day organized to showcase good performance of the Water Efficient Maize for Africa (WEMA) maize amid the ravaging drought that continues to be witnessed in most parts of Kenya. This maize variety is the non-transgenic counterpart of the GE maize developed to have resistance against stalk borer pests.
Development of Gene-Specific Rice Mutants via AvrXa23-based TALENs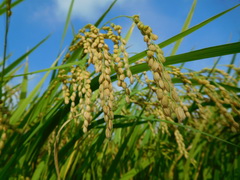 Transcription activator-like effector nucleases (TALENs) are increasingly used as a powerful tool for genome editing in a variety of organisms. Previous studies have cloned the gene avrXa23 from Xanthomonas oryzae pv. oryzae and developed an AvrXa23-based assembly system for TALENs. Fu-jun Wang of the Chinese Academy of Agriculture Sciences used TALENs to induce mutagenesis of rice ethylene response factor (ERF) transcription factor OsERF922 to test the gene-editing efficiency of AvrXa23-based TALENs system.

A biweekly update on gene editing research, regulations, and impact
produced by ISAAA Inc.

A monthly update on gene drive research and development provided by ISAAA in collaboration with the Outreach Network for Gene Drive Research
GM APPROVAL UPDATES
Brazil approved the wheat event HB4 for commercial cultivation.
The Philippines approved the eggplant event EE-1 for cultivation
The USA approved the canola event MON94100 for food and feed.
Nigeria approved the wheat event HB4 for food and feed.
The USA approved the corn event MON87429 for food and feed.

Ghana approved the cowpea event AAT709A for food, feed, and cultivation.
Biotech Updates is a weekly newsletter of ISAAA, a not-for-profit organization. It is distributed for free to over 22,000 subscribers worldwide to inform them about the key developments in biosciences, especially in biotechnology. Your support will help us in our mission to feed the world with knowledge. You can help by donating as little as $10.