ICAR-CIRCOT Hosts High Level African Delegation Biotech Study Tour in India
November 23, 2016
The Central Institute for Research on Cotton Technology (CIRCOT), a premier institute of Indian Council of Agricultural Research (ICAR) for conducting research on cotton processing in Matunga, Mumbai, hosted delegates of a high-level African biotechnology study tour to India on November 14, 2016. The delegation was comprised of parliamentarians, government executives, scientists, cotton sub-sector players, and the media from Ethiopia, Kenya, Malawi, Swaziland and Zambia.
Drs. PG Patil, Director of ICAR-CIRCOT and AJ Shaikh, Executive Secretary of the Indian Society for Cotton Improvement organized an interactive session participated by Dr Raju Barwale, MD of Mahyco; Dr Ranjini Warrier, former member secretary of the Genetic Engineering Appraisal Committee (GEAC); Dr Rajan, Principal Scientist in ICAR; and Bhagirath Choudhary of the South Asia Biotechnology Centre (SABC) based in New Delhi. The African delegates were briefed about the regulatory system of GM crops in India; opportunities & challenges in deployment of insect resistant Bt cotton in India; private sector engagement and experiences with insect resistant Bt cotton technology in the country; demystifying GM crops in India: a media perspective; Government schemes for inclusive development of cotton & textile sector and India-Africa collaboration to bolster cotton and textile Industry.
The African delegates visited the R&D facility of ICAR-CIRCOT to learn about the importance of cotton value chain and cotton byproducts. Dr. PG Patil explained the importance of cotton based nanocellulose technology and toured the African participants to the nanocellulose pilot plant established recently at CIRCOT.
The purpose of the African study tour was to learn from the Indian Bt cotton farming experiences, regulation, and contributions in the economy. This is part of South-South collaboration in experiential learning about the technology. ISAAA AfriCenter, Alliance for Commodity Trade in Eastern & Southern Africa (ACTESA/COMESA), United States Department of Agriculture (USDA), and the South Asia Biotechnology Centre (SABC), New Delhi supported the tour.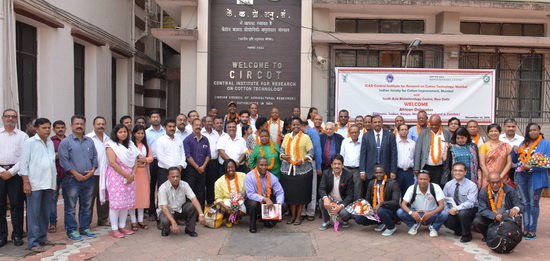 More information about the India-Africa Agriculture Engagement, contact Dr. Margaret Karembu at mkarembu@isaaa.org and Bhagirath Choudhary at bhagirath@sabc.asia
Biotech Updates is a weekly newsletter of ISAAA, a not-for-profit organization. It is distributed for free to over 22,000 subscribers worldwide to inform them about the key developments in biosciences, especially in biotechnology. Your support will help us in our mission to feed the world with knowledge. You can help by donating as little as $10.
See more articles:

News from Around the World

Research Highlights

Beyond Crop Biotech

From the BICs

Plant


Read the latest:


Subscribe to BU: