A high-level delegation consisting of parliamentarians, government executives, scientists, cotton sub-sector players and the media from Ethiopia, Kenya, Malawi, Swaziland, and Zambia visited Bt cotton fields in Maharashtra State of India on November 15, 2016. Indian cotton farmers led by farmer Shivaji Bhagal of Aurangabad district showcased the extra-long staple Bt cotton to Ethiopian State Minister of Cabinet Affairs, Mr. Yimama Zekarias Serkola; Hon. Massa Almaz Messele, the chairperson, parliamentary standing committee of agriculture affairs; and Hon. Haile Jembernesh Kinfe, vice-chairperson, Standing Committee on Natural Resources and Environment. The Bt cotton farmers exchanged and shared their experiences and the socio-economic impact of growing Bt cotton for the last decade. They proudly narrated how they have been able to take their children to English school, buy smart phones, motorbikes, and build permanent houses.
The Philippines celebrates the 12th National Biotechnology Week (NBW 2016) from November 21-25, 2016 focusing on the theme, Biotechnology: Partner in National Development. Different government agencies and non-governmental organizations participated in the week-long celebration through conduct of talks, exhibit, and contests nationwide. The Department of Agriculture spearheaded this year's celebration.
Researchers Engineer Potyvirus Resistance in Arabidopsis Using CRISPR/Cas9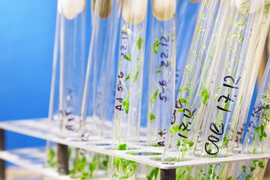 The eukaryotic translation initiation factor (eIF) gene family, including eIF4E and its paralogue eIF(iso)4E, have been identified as recessive resistance alleles against potyviruses. However, the information on these alleles is often limited. Douglas E. Pyott from University of Edinburgh, United Kingdon used CRISPR/Cas9 technology to introduce sequence-specific deleterious point mutations at the eIF(iso)4E locus in Arabidopsis thaliana to engineer resistance to Turnip mosaic virus (TuMV).

A biweekly update on gene editing research, regulations, and impact
produced by ISAAA Inc.

A monthly update on gene drive research and development provided by ISAAA in collaboration with the Outreach Network for Gene Drive Research
Biotech Updates is a weekly newsletter of ISAAA, a not-for-profit organization. It is distributed for free to over 22,000 subscribers worldwide to inform them about the key developments in biosciences, especially in biotechnology. Your support will help us in our mission to feed the world with knowledge. You can help by donating as little as $10.