Science Education Highlighted in World Life Science Conference
November 9, 2016
The 2016 World Life Science Conference (WLSC2016) with the theme Health, Agriculture, Environment was held on November 1-3, 2016 in Beijing, China. World-renowned life scientists, including 10 Nobel Laureates, four World Food Prize and Wolf Prize in Agriculture winners, Royal Society President V. Ramakrishnan, US NAS President Marcia McNutt, and about 4,000 scientists and engineers from 36 countries attended the conference.
The conference program included exhibition, poster sessions, and interactive dialogue between Nobel laureates and middle-school students. An exhibition that showcased the progress in the frontier of agri-biotech research which was arranged by Chinese Society of Biotechnology with the support of ISAAA China Biotechnology Information Center. The exhibit was visited by Dr. Chen Zhu, Vice Chairman of the Standing Committee of China's National People's Congress and the youth audience. The GM Yellow River carp developed by Institute of Hydrobiology, Chinese Academy of Sciences, as well as the golden rice and the black golden rice (golden rice hybrid with traditional black kerneled rice) developed by Huazhong Agricultural University attracted all the audience's great attention.
An impromptu workshop on biotechnology was held where Professor Zhang Hongxiang, Vice Secretary-General of WLSC2016, Executive Vice Secretary-General of CSBT, and Coordinator of ISAAA ChinaBIC, served as moderator. Prof. Zhang Hongxiang, Prof. Huang Dafang from Biotechnology Research Institute, Chinese Academy of Agricultural Science, Mr. Fang Xuanchang, Editor-in-Chief of Agrogene Website delivered talks to the middleschool students on the workshop.
Chinese Premier Li Keqiang made a written instruction to the conference, where he stressed the importance of life science in sustainable development. Premier Li encouraged Chinese scientists and industrialists to work hand in hand to meet global food challenges with more scientific breakthroughs and innovation.
The conference was sponsored by China Association for Science and Technology (CSBT) and organized by China Union of Life Science Societies, which is composed of CSBT and other 18 societies.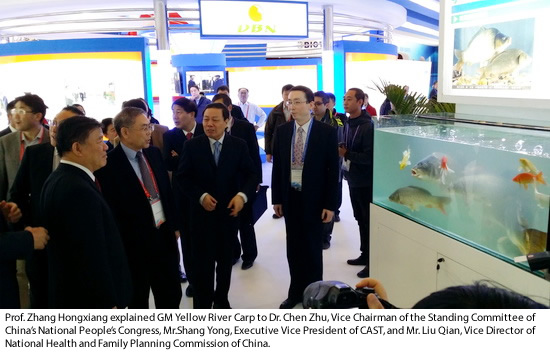 Visit the conference website for more information.
Biotech Updates is a weekly newsletter of ISAAA, a not-for-profit organization. It is distributed for free to over 22,000 subscribers worldwide to inform them about the key developments in biosciences, especially in biotechnology. Your support will help us in our mission to feed the world with knowledge. You can help by donating as little as $10.