African Party State Delegates Converge for COP/MOP 8 Preparatory Workshop
November 3, 2016
The NEPAD Agency African Biosafety Network of Expertise (ABNE) in partnership with National Biosafety Focal Points and ISAAA AfriCenter coordinated a workshop for African party states to deliberate on agenda items in the upcoming Conference of the Parties serving as the Meeting of the Parties to the Biosafety Protocol (COP/MOP8). At the meeting held in Accra, Ghana on October 26-27, 2016, participants hailed the AU commission for mandating ABNE to play this coordinative role.
Speaking at the meeting, Dr. Rufus Ebegba, CEO, Nigeria National Biosafety Management Agency, said the preparatory meeting was crucial to ensure the continent speaks with one voice at the international level. He thanked those who have negotiated in previous COP/MOPs on behalf of Africa. "We are now looking at GMOs as products that can be safely deployed for the survival of the continent," he said. Dr. Ebegba urged African delegates to make contributions that would help arrive at concrete decisions at the meeting. "We need knowledge, courage, and unity in biosafety negotiations," he added.
Participants, including the Head of ABNE, Dr. Jeremy Ouédraogo; AU Chair for the Africa Group, Mr. Kadiom Amidou; Biosafety and CBD Focal Points from various countries; and biosafety/biotechnology experts underscored the need for enhancing capacity already built in Africa's biosafety negotiations and devise strategies to retain it. Dr. Margaret Karembu, Director, ISAAA AfriCenter stressed the importance of building a community of African biosafety negotiators who can mentor young biosafety scholars for continuity of strong representation in such negotiations while demystifying the 'Focal Points' concept. The pre-COP/MOP meeting provided an opportunity to raise awareness and harmonize the region's perspectives on priority items of COP/MOP agenda and identified opportunities for effective participation in the upcoming COP/MOP 8 in Cancun, Mexico on December 4-17, 2016.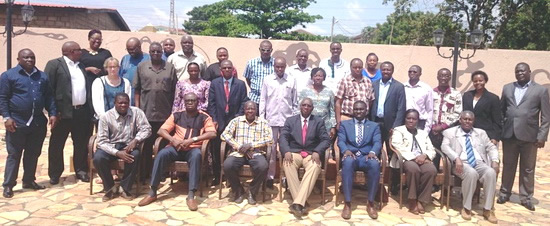 For more information, contact Dr. Samuel Timpo of ABNE at sam.timpo@nepadbiosafety.net
Biotech Updates is a weekly newsletter of ISAAA, a not-for-profit organization. It is distributed for free to over 22,000 subscribers worldwide to inform them about the key developments in biosciences, especially in biotechnology. Your support will help us in our mission to feed the world with knowledge. You can help by donating as little as $10.