Philippines Research Shows Bt Eggplant Does Not Harm Non-target Insects
November 3, 2016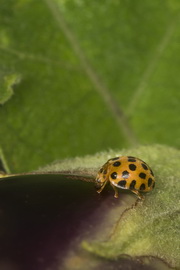 Genetically modified Bt eggplant has no negative impacts on the biological diversity of non-target organisms, according to researchers from the University of the Philippines Los Baños (UPLB) and Cornell University. These are the results of the first ever field level study of the effects of insect resistant genetically modified (GM) Bt eggplants on non-target arthropod species.
With data collected over three eggplant cropping seasons in Pangasinan, the Philippines' main eggplant-growing region experiencing the highest pest pressure, the research team revealed that there were no significant differences between the number and type of insects and other arthropod species between the GM Bt and non-Bt control eggplants.
"This first published report from extensive field studies of Bt eggplants affirms that the technology is ecologically benign and consistent with other previous studies on insect resistant Bt crops such as cotton and corn," said corresponding author Dr. Desiree M. Hautea, professor of crop biotechnology in UPLB's Institute of Plant Breeding.
The study results, subjected to rigorous scientific peer review, were published in the open-access scientific journal PLOS One on October 31, 2016. For more details, read the research article in PLOS One. A blog article is also available at the Cornell Alliance for Science website.
Biotech Updates is a weekly newsletter of ISAAA, a not-for-profit organization. It is distributed for free to over 22,000 subscribers worldwide to inform them about the key developments in biosciences, especially in biotechnology. Your support will help us in our mission to feed the world with knowledge. You can help by donating as little as $10.