FAO Report Promotes Biotechnology as Key Tool in Facing Climate Change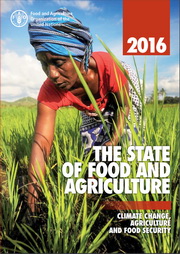 The Food and Agriculture Organization of the United Nations (FAO) released its annual report on The State of Food and Agriculture focusing on impacts of climate change on agriculture and the implications for food security. According to the report, there is an urgent need to support smallholders in adapting to climate change. Farmers, pastoralists, fisherfolk and community foresters are dependent on tasks that involve climate and at the same time, these groups are also the most vulnerable to climate change. Thus, there is a greater need for access to technologies, markets, information, and credit for investment to adjust their production systems and practices to climate change.
Scientists from Carnegie Mellon University and Yale University have developed a next-generation gene editing system that has cured a genetic blood disorder in living mice using a simple intra-venous treatment.

A biweekly update on genome editing research, regulations, and impact
produced by ISAAA Inc.

A monthly update on gene drive research and development provided by ISAAA in collaboration with the Outreach Network for Gene Drive Research
The Crop Biotech Update is a weekly newsletter of ISAAA, a not-for-profit organization. The CBU is distributed for free to over 23,000 subscribers worldwide to inform them about the key developments in biosciences, especially in agricultural biotechnology. Your support will help us in our mission to feed the world with knowledge. You can help by donating as little as $10.