New ISAAA Infographic: Where are Biotech Crops Grown in the World?
October 19, 2016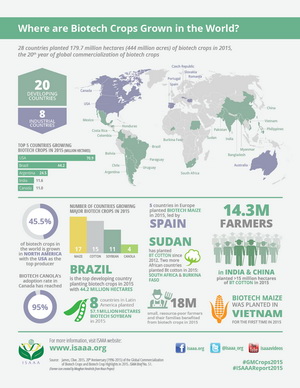 ISAAA releases a new infographic titled Where are Biotech Crops Grown in the World? The infographic contains information about the 28 countries that planted biotech crops in 2015, based on ISAAA Brief 51: 20th Anniversary (1996 to 2015) of the Global Commercialization of Biotech Crops and Biotech Crop Highlights in 2015.
Download the infographic from ISAAA.
Biotech Updates is a weekly newsletter of ISAAA, a not-for-profit organization. It is distributed for free to over 22,000 subscribers worldwide to inform them about the key developments in biosciences, especially in biotechnology. Your support will help us in our mission to feed the world with knowledge. You can help by donating as little as $10.