Egypt Holds Workshop on New Biotech Applications
October 19, 2016
A one-day workshop was held at the National Research Center on October 10, 2016 to launch the ISAAA Report on the 20th Anniversary (1996 to 2015) of the Global Commercialization of Biotech Crops and Biotech Crop Highlights in 2015. The workshop was under the auspices of the President of National Research Center and the President of the Arab Center for the Studies of Arid zones and Dry lands (ACSAD). The workshop provided an academic environment for scientists in the field of biotechnology and covered basic information for the students.
Over 200 participants attended the event, including students, media practitioners, representatives for the ministries of agriculture from Arab countries, researchers from different universities and research institutes across the country. The presentations raised the issue of the biotechnological application research in different fields, including microbiome, plant and animal biotechnology.
Prof. Naglaa Abdallah, Director of the Egypt Biotechnology Information Center, gave a presentation covering the highlight of the report as well as the new breeding techniques for crop improvements. She said, "Egyptian researchers have developed a number of useful transgenic plants that are at the pipeline waiting for the approval of Biosafety law from the Parliament. The Minister of Environment has submitted the Egyptian Biosafety bill to the Parliament to review and to be passed into law. Ratification of the biosafety law will ensure safe development and use of modern biotech crops by researchers in Egypt."
She added that gene editing is the future for crop improvement and is expected to meet consumers' acceptability as it mimics regular breeding and mutations in most of its applications. The ISAAA report was presented to the Presidents of NRC and the ACSAD. They have come out strongly to support the adoption of new biotechnology techniques in the Arab region as they have the potential to enhance and increase productivity and address food security issues. Also, ISAAA translated publications and Science Carnival Journal were distributed to attendees.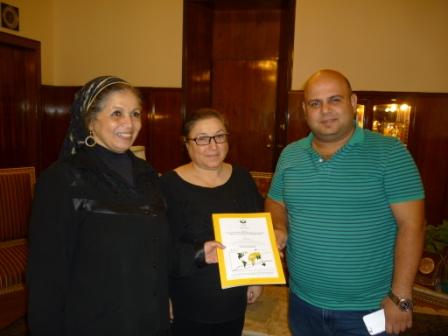 For more information about the workshop, contact Prof. Naglaa Abdallah, Director of the EBIC through naglaa.abdallah@agr.cu.edu.eg.
Biotech Updates is a weekly newsletter of ISAAA, a not-for-profit organization. It is distributed for free to over 22,000 subscribers worldwide to inform them about the key developments in biosciences, especially in biotechnology. Your support will help us in our mission to feed the world with knowledge. You can help by donating as little as $10.